NEWS
Burn Notice Star's Unique Drunk Driving Defense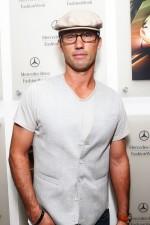 Burn Notice star Jeffrey Donovan might want to rethink his defense by the time he goes to court for his July 12 DUI case, as the reasoning, "I really think I'm only borderline and not too drunk" probably won't get him too far.TMZ relates Jeffrey's unique defense, outlined in a police report from Miami Beach PD. The arresting officer wrote he first noticed Jeffrey after he heard "a loud tire screech" behind him, and saw the actor's car swerve to avoid hitting him. When he stopped, he told the cop, "Sorry, I didn't see the red light or your stopped car."
Article continues below advertisement
The officer smelled alcohol and asked Jeffrey if he'd been drinking.
"I had three drinks at the Fontainebleau," Jeffrey responded, before failing a field sobriety test. As he was taken into custody he added another gem: "The only mistake I made tonight was drinking Benadryl with 3 glasses of wine."