NEWS
Rob and Kristen: Engaged!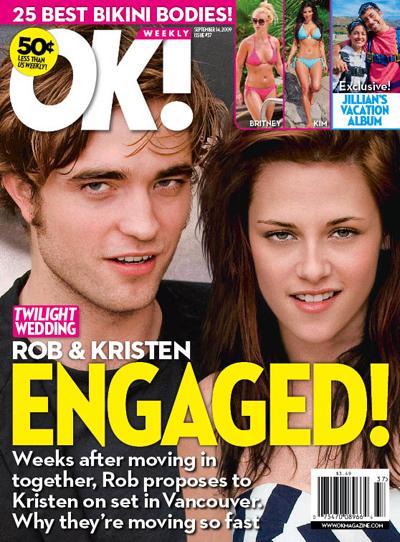 Twilight: As Robert Pattinson and Kristen Stewart continue to grow closer on the set of Eclipse in Vancouver, they will soon film the romantic scene of Edward and Bella's engagement. But will life continue to imitate art with these two lovebirds with a real-life engagement? Also, has Vanessa Hudgens developed a crush on RPattz? Is there trouble in paradise for her and beau Zac Efron?
DJAM: Disc Jockey Adam Goldstein, who was once engaged to Nicole Richie and dated Mandy Moore, is found dead in his NYC apartment after miraculously surviving a plane crash nearly one year ago. Find out what happened and if his past drug addiction had anything to do with this tragedy.
Beach Bodies: From Britney Spears to Kim Kardashian to Miley Cyrus, find out who has the 25 hottest beach bodies of the summer. Between diet and exercise, how do they get themselves into such fab shape?
Bachelorette Update: After all the turmoil and rumors of infidelity in the past few months, Jillian Harris and her fiance Ed Swiderski share their private photos with OK! as they enjoy a Canadian summer vacation and move forward with their wedding plans. Also, find out the latest in the love lives of former Bachelor ladies, Molly Malaney and Melissa Rycroft.
Chris and Rihanna: Chris Brown was finally sentenced in the February physical attack on his former girlfriend Rihanna. As he is ordered to stay 500 feet away from his ex at all times, discover why the Barabados beauty isn't so happy about this latest turn of events. Will they still try to see each other, or is their relationship really over for good?
Plus: Are Halle Berry and Gabriel Aubry expecting a younger sibling for daughter Nahla? Get the truth behind Michael Jackson's death. How did he really die? How to Live Like... the classic elegance of 9 star Jennifer Connelly. As fall TV gets ready to kick into gear, get the 411 on your favorite reality TV shows. Lasting impressions of American Idol runner-up Adam Lambert.
Article continues below advertisement