NEWS
VIDEO: Halle Berry Addresses Pregnancy Rumors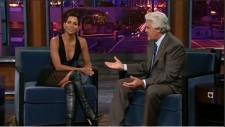 First it was Penélope Cruz and now it's Halle Berry — It must be the season for Oscar-winning actresses to deny pregnancy rumors. The 43-year-old beauty went on The Jay Leno Show last night and finally spoke up about the whispers that have been following her for weeks.
When Jay pointed out to the slender Halle that she "looks terrific," a relieved Berry replied, "Thank you... That must mean all these pregnancy rumors can be put to rest!"
Article continues below advertisement
Halle said that constantly hearing the rumors of her being with child had made her self-conscious about her famous figure and had her rethinking her eating habits.
"I was getting a complex," she confessed to Jay. "I was like, 'I gotta stop with the burgers!'"