NEWS
Beyoncé's Stiletto Workout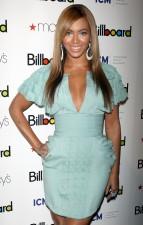 Beyoncé is famous for her hard work and dedication but Sasha Fierce herself admits that she sometimes takes it too far. After a day of rehearsals in sky-high heels Billboard's Woman of the Year confesses, "I'll have blisters and my toes will have bruises."
"I don't run on a treadmill in heels. That's a bit extreme," the "Single Ladies" singer says. "But I do practice my choreography in heels.
"And I have a rule that when I have my heels on, everyone has to have their heels on too. Sometimes the dancers are like, 'Oh, God, we hope Beyoncé comes in late,' because I'll go all day."
Article continues below advertisement
How else does the "I Am... Sasha Fierce" diva stay in shape? "I still do all the boring things that everyone else does in regular workouts like squats and the treadmill," she tells Billboard.
"But I mainly get in shape from doing the choreography during those long 12-hour rehearsals for two months before a tour."
Mrs Jay Z, 28, who's performing in her global I Am... tour admits, "I'm an all-or-nothing type of woman.
"Either I'm doing absolutely nothing and relaxing — reading a book, sitting by the ocean and not answering any questions — or else I'm hands-on and giving 100 per cent, working really hard.
"I was just on vacation for three weeks after touring for a couple of months. I have to schedule time to rest, rejuvenate and get inspired to work again.
"Now I'm definitely rested and thank God I had the rest — that's the only way I would be able to get through a week like this. After three weeks without giving any answers or approvals and no performing, I came back like, "Yes! I'm ready to work!"
So is a Destiny's Child reunion on her to-do list? "I don't know if we would do another record anytime soon. And we haven't talked about a tour. That's just been something floating in the media.
"If people keep talking about it, maybe we'll do it. If that's what people want ... who knows? But whenever the girls need me or I need the girls, we're here for each other."