NEWS
Megan Fox & Brian Austin Green Get Burglarized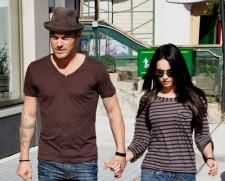 Megan Fox and Brian Austin Green have been added to the list of stars that were allegedly burglarized, TMZ reports, during the string of celeb break-ins in Hollywood Hills by the same group of burglars.
Brian's home was broken during the time other Hollywood Hills homes were robbed. Among the items stolen was his recreational gun, which had been locked up, law enforcement sources said.
Although it wasn't Megan's home, she spends a lot of time there and several of her signature T-shirts were stolen.
Article continues below advertisement
Brian apparently didn't even know he had been robbed because he has been filming a movie in NYC.
Cops have reportedly retrieved the stolen items and returned them to him last week.