NEWS
Snoop Dogg's Bling Causes Airport Scare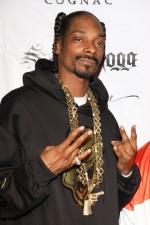 Note to Snoop Dogg: Don't wear anything that looks like a weapon when you're going through airport security. The rapper was in the dogg house this week after airport officials in Beirut confiscated his bullet-shaped bling.
Snoop, 37, (who was returning from the Middle East where he performed a concert at Forum de Beyrouth in the capital of Lebanon, Sept. 30) had to give up his necklace with its bullet pendant at Beirut International Airport, sources tell OK!.
Article continues below advertisement
Ironically, Snoop's fashion statement has an anti-war message. The diamond-studded ammo was from the charity Bullets 4 Peace which turns bullet casings into jewelry worn by stars such as Beyoncé and Justin Timberlake.
Luckily, the "Sensual Seduction" rapper won't have to do without his chain for long, "He called right away for a replacement," says an insider.
This isn't the first time Snoop has caused a ruckus at an airport. He was arrested at John Wayne Airport in Orange County, California in 2006 for packing a collapsible baton in his carry-on bag, and he was banned from entering Britain in 2007 following a fight at London's Heathrow Airport in 2006.