NEWS
Mariah Carey's Diva Demands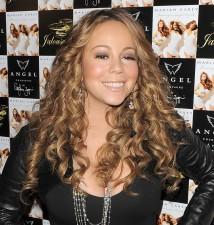 Maybe she's making up for playing a mustachioed social worker in Precious, but Mariah Carey ensured she was as fabulous as possible during a trip to the UK, in which she traveled with her own rolls of toilet paper and demanded that two helpers lower her on to a talk show sofa.
Kate Garroway, the host of British morning show GMTV, spilled the beans to New magazine via the UK's Daily Mail on Mariah's visit to the studio last week.
Article continues below advertisement
"I've heard a lot of rumours about her being a diva over the years and guess what? It turns out it's all true!" says Kate.
She adds: "While Mariah was very nice, the amount of people she had in her entourage was hilarious.
"She had two people to lower her on to the GMTV sofa, in case her dress got crushed, one person to walk in front of her backwards at all times in case she fell over and several people behind the camera making sure she was going to be filmed from the right angle!
"Have you ever heard anything like it? Oh, and she brought her own toilet roll as well."
Mariah's rep has called Kate Garraway's claims a "clear, gross exaggeration".
She said: "With regards to the 'entourage', every star of Mariah's caliber is surrounded by a working team and Mariah doesn't actually have any more people working with her than any other major star."