NEWS
Carrie Underwood Trashes Simon Cowell and Tony Romo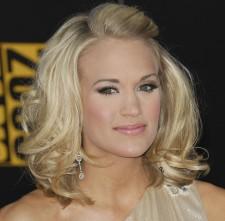 Country queen Carrie Underwood isn't holding back on two of the men who've passed through her life: ex-boyfriend Tony Romo and the man who made her a star, Simon Cowell.
In an interview with Esquire magazine via Popeater she reveals her opinion on the straight-talking American Idol judge, "Simon's obviously very smart. But he's not the smartest person I know."
Meanwhile, she opens up about whether the lyrics to her hit "Cowboy Casanova" is about her ex, Dallas Cowboy QB Tony Romo: "No. I would never immortalize a guy that did me wrong. I would never give him that much credit."
Article continues below advertisement
As she promotes her third album, Play On, Carrie, 26, remembers her thoughts as she jetted off to join American Idol in LA in 2005.
"I was so nervous when I was on my way to LA I'd never been on a plane, and I was going alone. I kind of got teary-eyed.
"My dad was driving, and he said, "If you want to go home, we can go home, and you never have to think about this again. And I thought, If I don't go, I'm choosing for this not to happen. It will be my choice. So I figured it would be easier for me to get kicked off American Idol than to have it be my own decision."