NEWS
Happy 34th Birthday Tiger Woods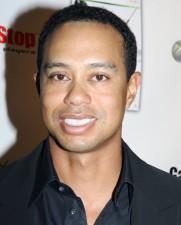 In honor of Tiger Woods' 34th birthday, OK! is recapping some of the top stories surrounding the salacious scandal plaguing the pro golfer.
His infamous reputation ignited over the Thanksgiving holiday in the early morning hours of Nov. 27, when Tiger struck a tree and fire hydrant outside of his Windermere, Fla. home the accident allegedly caused by an argument with his 29-year-old wife, Elin Nordegren.
Article continues below advertisement
The crash opened up the door to Tiger's scandalous, secret past filled with many alleged affairs.
The first alleged mistress, Rachel Uchitel, denied reports of her relationship with Tiger at first. She hired famed powerhouse attorney Gloria Allred to stand by her. Tiger is still rumored to be seeing Rachel, 34.
Rachel — a recent OK! cover girl — told OK! she is "not a homewrecker."
Alleged mistress No. 2 Jaimee Grubbs, a cocktail waitress and reality star, wasted no time reaching out to the media with a Extra TV interview.
Article continues below advertisement
"I am deeply aware of the disappointment and hurt that my infidelity has caused to so many people, most of all my wife and children. I want to say again to everyone that I am profoundly sorry and that I ask forgiveness. It may not be possible to repair the damage I've done, but I want to do my best to try," the pro wrote.
With his list of high-profile endorsers — like Gillette — dwindling his campaign presence , a new sponsor embraced Tiger. Due to his experience with exotic dancers, NYC strip club Scores offered the pro $1 million to endorse their club as well as become their new Human Resources Director.
Scores sent their offer to Tiger via an open letter, which reads in part:
"Dear Mr. Tiger Woods,
As the nation watches your endorsement deals collapse in the wake of your adultery scandal and doors have been closing on many sponsorships and opportunities, we would like to take this time to present you with an opportunity where we open the doors back up to endorsements."
The tag line for that partnership would definitely be one for the record books.
Article continues below advertisement
As of now, Tiger's whereabouts remain unknown and he has not come out of the "woods" to discuss the allegations against him. Most recently, it has been reported that Tiger has checked in — or plans to check into — a sex rehabilitation center in Arizona.
Divorce rumors have circulated; however, wife Elin Nordegren has not made any concrete decisions on whether or not she will part ways with her husband, with whom she just had her second child, Charlie, with in February.
Hopefully, 34 brings on a better year for the pro golfer than 2009.