NEWS
Report: Jon Gosselin Needs Cash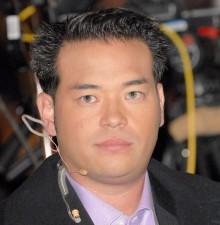 With no job and legal bills to pay, reality dad Jon Gosselin is having serious money troubles, reports Fox411.com.
Last week, TLC successfully prevented the 32-year-old from making any public appearances for money — Jon's main source of income.
"Jon's in pretty serious financial trouble because his plan for making money was shut down in court," an insider tells the Fox News celebrity blog.
"He has warned his lawyers that he can't pay them and if he doesn't succeed against TLC, he will have no funds. He's even gone so far as to say that if they want to be paid, they will have to sue him."
Article continues below advertisement
Jon's money problems have been building for a while now. On Oct. 13, a judge ordered him to hand back $180,000 that he had withdrawn from his joint account with Kate Gosselin.
A few days later, TLC filed a suit against Jon for breaching their contract by making paid and unpaid TV appearances without the cable network's permission.
The insider says that despite being so strapped for cash, Jon is making no effort to find a normal job.
However, Jon's legal team has produced a written statement denying that the former reality actor is in a financial hole.
"Jon Gosselin's New York lawyer has the highest regard for Jon Gosselin and will continue to work for Jon for as long as he requires their services," it reads.
"His lawyers Mark and Mike Heller have no concern relevant to being paid by Jon for their services and see no circumstances under which they would ever sue Jon."
"This past year, Jon Gosselin was the most photographed man in America and appeared in more magazines than any other reality TV star," it continues.
"Wherever he goes, there is an outpouring of love for him from his fans. And there is no doubt that he has a bright and shining career ahead of him."