NEWS
Tiger Loses Commercial Slots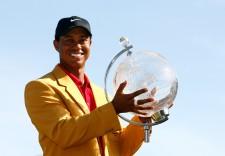 The fall out continues in the Tiger Woods scandal. Marketers have pulled all the pro golfer's advertisements from prime-time television broadcast networks and 19 cable channels following the reported extramarital affairs, according to data from the Nielsen Company.
The last prime-time ad featuring Tiger was a 30-second Gillette Co. spot that ran on Nov. 29, the New York-based Nielsen Co. reports. Woods was also absent from commercials on a number of weekend sports programs, including NFL games.
Article continues below advertisement
"Last weekend there wasn't any advertisement during those games," said Aaron Lewis, a spokesman at Nielsen.
Tiger is still holding on to his endorsement deals. For now.
"Tiger and his family have Nike's full support," a spokesperson for Nike, which endorses Tiger, said in a statement last week. "We respect Tiger's request for privacy and our thoughts are with Tiger and his family at this time."
Sports drink Gatorade spoke out in his support as well.
"We wish Tiger well as he recovers and look forward to seeing him back on the course soon," a statement from Gatorade said. "Our partnership with Tiger continues."