NEWS
Tila Tequila's Publicist Jumps Her Sinking Ship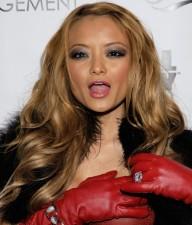 One clue you might be going about the whole celebrity lifestyle, fame-seeking thing in a way that others find distasteful? Even your own publicist doesn't stand by you: Tila Tequila's publicist, Jessica Cohen of JCPR, has revealed in an email statement to OK! that she is no longer representing the reality star in light of recent events.
"This is to inform you that I am no longer representing Tila Tequila as her publicist. Some matters need to remain private and away from media attention and due to recent events, I realized that we need to part ways while she deals with the loss of her fiancée," she writes in the statement. "I will forward any remaining inquiries to her until the new publicist takes over."
Article continues below advertisement
Jessica is most likely referring to the slew of controversial statements Tila has made in the aftermath of her so-called fiancee Casey Johnson's death, including her intention to adopt Casey's adopted daughter, Ava.
Unfortunately for Tila, a whopping 94 percent of OKmagazine.com readers said in our online poll she'd be a terrible mother.