NEWS
Shannen Doherty Refutes Bad Girl Image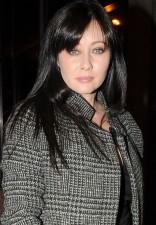 Despite two divorces and a reputation for being difficult since her 90210 days, Shannen Doherty tells reporters she has no regrets.
Now happy with her photographer beau of 1 ½ years Kurt Iswarienko, the 38-year-old actress has found peace, but she halts the interview when it comes to marriage talk.
"We just meld well together," the petite, cool, guardedly friendly actress says while relaxing downstairs at NYC's Hammerstein Ballroom  last week.
Article continues below advertisement
One key: Kurt fits in well with her pets, which include dogs and horses.
"He gets along great. He's an easygoing guy, so it all works out."
Thank goodness, she laughs, as they're very important to her.
She tells me, "They're like my children."
And children can never get enough adoration from their parents.
"I give them lots of love," Shannen tells me of her animals. "That's it. I no longer feed them table scraps, because people come over and the dogs beg and it's annoying. I don't do that anymore. It breaks my heart, but you can't do it. It's very bad. They get lots and lots of love."
For the animal-loving Tennessee-born actress, being labeled as a bad girl is a misconception that gives her pause.
"It's funny," she says. "I think that in America, a woman with a brain is called a woman with edge, and I think in Europe, a woman with a brain is called a woman with a brain. I think it's a very different stigma. I don't think it's an edge at all. I'm smart and I'm quick, and I like playing smart characters."
Article continues below advertisement
Although Shannen seemed to cultivate a naughty image during her 1990-1994 90210 heyday, her reputation and her reality were far different. She started her career on Little House on the Prairie at age 11, and wound up on Our House by age 15 before making her way to the teen dramedy set in the prestigious zip code.
"I was working during most of my high school years, so I was usually on a set," she says. "I also went to private French school, and it was very much about academics. It was boys and girls, but there were uniforms. It was strict. Everyone had their own style with the uniforms, like what length was your skirt, did you wear scarves, did you do this, did you do that, tights, knee socks. There were no mean girls. It was a French school. It was heavily, heavily European, and I think everybody was very open-minded, objective and accepting. It wasn't a judgmental environment at all."
Like the book title French Women Don't Get Fat, French-educated and slender Shannen doesn't sweat her diet and exercise routine.
"I don't do anything," the actress, who admits she doesn't like cupcakes, says. "I actually swear to God that I do not do anything. We went to dinner with a couple girls who are walking in fashion shows, and I'm digging into a New York steak, French fries and a cookies and cream soufflé. They're drinking Perrier, and that's it. I'm like 'why aren't you eating?' and they're like French/foreign accent 'well, we have a show tomorrow.' And I'm like, 'so you're not going to eat?' I have no clue what that's like."
Article continues below advertisement
She continues, "I'm sure my metabolism is going to change at some point. I'm sure that it's going to slow down, and I'll be like 'damn, why didn't I go to the gym?' When I put on five pounds, I guess I'll work out. Until then, I'm going to enjoy it."
While we'll see more of Shannen this year in TV's Growing the Big One and dramedy Burning Palms, she's no one-trick pony.  Aside from acting, she's served as editor-in-chief of Pasadena magazine, where she dabbled in art direction and photography. Most recently she lent her eye for fashion to Universal Records, for whom she recently styled a shoot for an upcoming artist.
She credits Dolce and Gabbana, Chanel ("a staple in my closet"), D Squared and the late Alexander McQueen as her favorite designers.
"I think he was a true creative genius," Shannen says. "We lost somebody incredibly important in fashion. In the world, he defined a time, and kept changing and doing interesting things. We lost that."
She offers a style tip in the form of hindsight just before the G-Star Raw fashion show begins.
Check out Fashion Week Diary: Stars Get Raw for G-Star
"Make sure that what you're wearing, you're not going to look back ten years later and regret that you wore it, like my high-waisted jeans."
Her style motto?
"I like to be very quick," she says. "Whatever takes me five minutes to get ready is good."