NEWS
Christian Siriano Revamps Kat DeLuna's Look!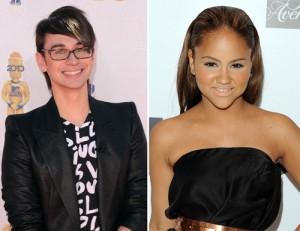 When you picture Christian Siriano, designer and winner of Project Runway, he's probably wearing thick-framed glasses and a vest. That's because that's what Christian describes as his "signature look," which is an unique look or style that is associated with the iconic figure that wears it. "Everybody has their signature," Christian tells OK!. "When I was on Project Runway, I used to wear vests. That was my thing and that kind of thing carries on."
Article continues below advertisement
OK! GALLERY: THE STARS ARE IN ON RUFUS WAINWRIGHT'S SECRET
It's his passion for fashion and his understanding of personal style that made Christian the perfect candidate to design singer Kat DeLuna's ensembles for her tour. The pair met at a party at Fashion Week when they bumped into each other — literally! While Christian might've hit his head a little too hard — all he claims he can remember is Kat wearing a Valentino fur — he did remember at the time to invite her to his showroom to pick out a few items to try on.
OK!'S NYC FASHION WEEK BLOG: CHRISTIAN SIRIANO
After that, they grew to be friends and co-workers. So while they may initially seem like an unlikely pairing, the two actually go together perfectly — like Christian and vests!
"I feel that my sophomore album has to be stronger than the first one. I've grown musically," Kat said."Style-wise, I play more with fashion and I know what fits me best. And Christian sat down and said 'I know you like this kind of pattern, you have to tell me how we're going to do it.'"
Article continues below advertisement
The pair worked together to add a look to compliment Kat's new sound as an artist. As an artist that has grown and matured into her sound, so it's only appropriate to feature a signature look to match that she has grown into as well.
OK! NEWS: "LUNA" LANDING IN MANHATTAN
To create her signature for her tour, Christian tried to create a look that he describes as "beautiful edgy," which he made by enhancing every item with Swavorski crystals.
"All the looks for her tour are all Swavorski crystal, metallic sequins, things like that. They're very colorful," Christian said. "Kat's music is glamorous music and that's why I thought the stones and that kind of world is crystallized, glam but still edgy and powerful."
Kat's second album Inside Out is set to release in early September.
"That's what it is: Kat DeLuna inside out for all you guys," Kat explained of her album title.
Her music may be inside out, but let's just hope that she keeps her fabulous outfits made by Christian right side in!
By Carly Sitzer