NEWS
Roger Ebert Fuels 'Huckleberry Finn' Twitter Fued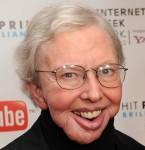 Article continues below advertisement
What did Roger have to say about that?
"I'd rather be called a N***** than a Slave," he on Wednesday.
Well, the critic was then met with many upset Twitter critics.
"Fair point, from some1 who's likely to be called neither," one commenter wrote.
OK! NEWS: JOSH GROBAN GETS IN TUNE WITH KANYE WEST'S TWEETS
But on Thursday, Roger issued an apology.
"You know, this is very true. I'll never be called a N***** *or* a Slave, so I should have shut the **** up," he wrote.
Mark Twain's Adventures of Tom Sawyer and Huckleberry Finn: The NewSouth Edition is set for release in February.