NEWS
Spotted!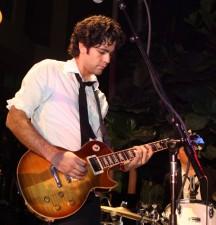 Adrian Grenier performing with his band, The Honey Brothers at The Pool After Dark at Harrah's Resort in Atlantic City. They put on a great show and drank Patron and Grey Goose when they were off stage.
Rosario Dawson, Ana Ortiz and Demi Lovato at Wilmer Valderrama's house in Tarzana, Calif. taping a series of Internet shorts for Voto Latino's forthcoming PSA on census participation.
Usher getting a Red Carpet Facial and rejuvenating spa and salon experience at Qua Baths & Spa inside Caesars Palace Las Vegas.
Article continues below advertisement
Sean Penn enjoyed sushi with a stunning statuesque brunette, a male friend and fellow Oscar winner Kevin Spacey at Sushi Roku in Santa Monica.
Laura Patricio and the cast of VH1's Secrets of Aspen at their premiere party at Hush in Laguna Beach.
Jennifer Love Hewitt was spotted solo shopping at the Tt Collection store in L.A., picking up a flirty strapless silk and lace "Eva" top.
Ian Somerhalder dining on eggs and fruit by himself while he read through a script at Norma's at Le Parker Meridien.
Halle Berry sharing a Jicama Salad, Lacquered BBQ Ribs, Beef Skewers, Kumquat Chicken and Ginger Fried Rice with a friend at RockSugar Pan Asian Kitchen in Century City, Calif.
Kristin Cavallari licking a couture lollipop from Sugar Factory at her 23rd birthday party at Eve nightclub in Las Vegas.
Jersey Shore's Mike "The Situation" hosting the "Guido & Guidette Ball" at Stingaree in San Diego.
Matt McConaughey at a BCS Championship pre-party at H.Wood in Hollywood.
Article continues below advertisement
EA SPORTS Active and TV Personality Nancy O'Dell hosting Active for Life charity event and auction to benefit March of Dimes in L.A.
Queen Latifah and Dania Ramirez announcing "CoverGirl Clean Makeup For Clean Water Campaign" at the Four Seasons Hotel in Beverly Hills.
Jenna Dewan and Channing Tatum stopping into the Energy Muse Jewelry headquarters in L.A .to get some new pieces and a couple's stone reading.
Cassie relaxing by the pool with her mom at the Sagamore Hotel in Miami.
Joe Jonas dining with Kevin Jonas, Kevin's wife Danielle and friends at Planet Hollywood Times Square before going to see Nick Jonas perform at the Beacon Theater in NYC.
Kat DeLuna getting her hair done at Rita Hazan salon in NYC.
Investors Danny and Chris Masterson at Shin owner Simon Shin's birthday dinner at their Hollywood restaurant Shin Restaurant.
Article continues below advertisement
Alanis Morissette at the Spa Grande at Grand Wailea Resort.
Kelly Killoren Bensimon rockin' out to "Empire State of Mind" and posing for photos with fans at a Joonbug.com party over the weekend.
DJ'S Stonerokk and Graham Funke DJ'ing at Pink Kitty in Cabo San Lucas, as Rihanna danced it up.
Sara Canning clad in French Connection while at Studio 54's in Las Vegas for the clubs anniversary and her Vampire Diaries co-star Nina Dobrev's 21st birthday.
The Jersey Shore cast getting gifted diamonds by Mouawad Jewels, Valerie Beverly Hills make-up and fitness mats from G2 Lifestyles Gym while at The Hospitality Suite Presented by Live Loyal PR and EMC/Bowery for the Golden Globe Awards at the Pascal Mouawad Estate in L.A. The night before The Situation, Snooki, Ronnie and Sammi were spotted dancing and fist-pumping at their table next to DJ Rick Rude's booth at Coco de Ville's Friday night party in L.A.
Article continues below advertisement
Bridget Moyahan picking out a pair of "bad ass" Solstice shades and an Ilia leather jacket at the HBO Luxury Lounge and joking, "I hope there's a motorcycle in the next room!"
White House party crashers Tareq and Michaele Salahi hosting a party at Pure in Las Vegas.
Kellan Lutz partying at San Diego hotspot Stingaree.
Malin Akerman at THINK PR's Pre-Sundance Gifting Suite at W L.A.
Lindsay Lohan drinking Diet Pepsi in the DJ booth at Playhouse in L.A.
Lauren Conrad wearing her favorite pair of Levi's denim leggings when she stopped by the Kari Feinstein Golden Globes Style Lounge with Lo Bosworth.
Jodi Foster at the LA Film Festival's a brunch for the nominees of this year's Spirit Awards at BOA Steakhouse in West Hollywood.
Molly Simms, clad in DVF and Balenciaga, spotted at W New York – Times Square for a preview of her new jewelry line, Grayce by Molly Sims.
Tyra Banks at Commerce in NYC.
Jersey Shore's Snooki at the Vida Launch event at Voyeur in Hollywood.
Rebecca Romijn unveiling her Milk Mustache ad at the W L.A.
Ryan Seacrest celebrating Ben Silverman's engagement at Philippe in L.A.
Felicity Huffman trying on diamond Tacoria bracelets at the Kari Feinstein Golden Globes Style Lounge.
Melrose Place star Katie Cassidy hosting the launch of the Division E women's collection at Lisa Kline on Robertson.