NEWS
Aflac Should Not Have Axed Gilbert Gottfried, Says Howard Stern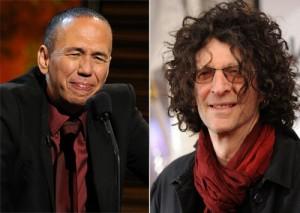 Gilbert Gottfried has a friend in Howard Stern. Today on his show, the opinionated radio host lashed out at Aflac for firing the comedian, who lost his voice-over job as the insurance company's famous duck after he Tweeted insensitive jokes about the current devastation in Japan.
Howard defended Gilbert today, saying the comic's distasteful jokes about tsunami ravaged Japan were just part of his humor that he has become known for.
Article continues below advertisement
"They hired him in the first place knowing... this guy is offensive... everyone knows what Gilbert's act is. This was no different," he in Gilbert's defense, on the Howard Stern Show this morning, expressing his disappointment in Aflac.
"Gilbert's recent comments about the crisis in Japan were lacking in humor and certainly do not represent the thoughts and feelings of anyone at Aflac … Aflac will immediately set plans in motion to conduct a nationwide casting call to find a new voice of the iconic Aflac Duck," the company announced yesterday in a statement.
The comedian Tweeted 12 jokes after the devastating 9.0 magnitude earthquake and tsunami hit Japan including one saying, "Japan is really advanced. They don't go to the beach. The beach comes to them."
Gilbert also Tweeted a joke at Howard, which has since been taking down.
Listen to Howard defend Gilbert in the segment on TMZ. Do you agree with the radio king?