NEWS
David Spade Slams Charlie Sheen's Goddesses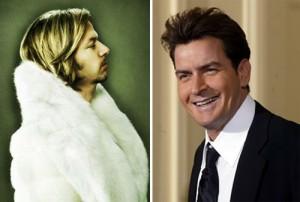 Watch out, Charlie Sheen. While Diddy may be in your corner, not every celeb is going to give you their "winning" approval right away. Fellow Comedian David Spade took to his Twitter today, with a not-so-nice comment about Charlie's goddesses.
David has been Tweeting about the 45-year-old actor whose current media bender has captivated the American public.
Article continues below advertisement
"i was happy to hear charlie sheen wasnt on drugs. till i realized oh shit he sounds like this when hes normal? go back to blaming the drugs!" he wrote.
And the Tweet David followed up with involved the 24-year-old goddesses — Natalie "Natty" Kenly, a former model and nanny, and Rachel "Rach" Oberlin, aka porn star Bree Olsen.
"By the way, I think the word Goddess is being thrown around a bit loosely these days.. I think the term is 'a seven" he quipped about the ladies, insinuating they were a 7 rather than a 10 on the hotness scale.
Messing with Charlie is one thing, but messing with the goddesses is a whole other ballgame. Let's hope Charlie doesn't (or does?) get wind of David's jab!