NEWS
Rebecca Black's "Friday": Best YouTube Cover Videos (And No, Bob Dylan Didn't Write It)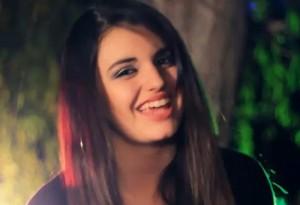 Rebecca Black's "Friday" has racked up millions of views on YouTube, but the reviews are not all positive. Some are calling the 13-year-old signed singer "the Next Justin Bieber" (a blasphemous phrase to many Beliebers) for her catchy ditty and pop vocals, while others hail "Friday" as the "worst song ever." Regardless, Rebecca has gained a lot of attention and her music video has become an Internet sensation with many trying to recreate her songs. Thus, the creative covers are abounding on YouTube.
Article continues below advertisement
Rebecca's song is far from ingenious when it comes to lyrics. At first it sounds like your classic pop tune, but while she may have a recording contract with Ark Music Factory, she isn't a lyricist.
"Yesterday was Thursday / Today it is Friday / Tomorrow is Saturday / And Sunday comes afterward," she continually croons throughout the close to 4-minute track.
Her record label, posted the video for "Friday" on YouTube on Feb. 10.
On March 11, it only had about 4,000 views. Today it has close to 10 million thanks to the Twitterverse!
And naturally, the covers of "Friday" have launched on YouTube.
A very well-executed Bob Dylanesque parody of "Friday" — to be clear it is not the folk legend performing the cover which some Internet buzz has suggested, and he also did not write the song – has gained the most attention.
Article continues below advertisement
Check out the most viewed YouTube covers of "Friday"(made famous by Rebecca) below. Which is your favorite?
1. Views 356,442 - "Bob Dylan"
2. Views 127,559 - Alex Carpenter uses product placement in this humorous parody. His breakfast consists of cereal and Captain Morgan's spiced rum? Reminiscent a bit of Ke$ha?
3. Views 91,428 - A more serious take on the ditty.
4. Views 65,050 - More of a dance remix with the creator performing a literal interpretation of the lyrics.
Rebecca's Original "Friday" music video.