NEWS
Toni Braxton Details Autism Struggle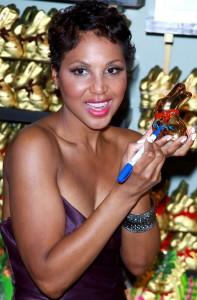 After Toni Braxton's youngest son Diesel was diagnosed with autism at age three, she blamed herself - a feeling she still carries with her five years later. The Grammy award-winning singer opens up about her family's journey, which reformatted her relationship with her husband Keri Lewis (they're now separated) and strengthened the bond between her sons. And, she offers hope to parents dealing with the condition - her son is now attending public school thanks, in part, to early diagnosis.
Article continues below advertisement
"Diesel's journey has been struggling," the Braxton Family Values star, 44, tells me of her eight-year-old son's condition during the Lindt Gold Bunny Celebrity Auction kickoff to benefit Autism Speaks held this week in NYC. "It's been rewarding to see how he's grown, but I remember when I first found out. I remember blaming myself; I thought it was my fault. I wish I knew what triggered it. Still, often, as a mom, I blame myself. I didn't take my vitamins every day ... maybe it was the medications I was on before I got pregnant."
She adds, "They haven't figured out what triggers it, but whatever it is, I don't care, find a cure. Help my kid; help all the other kids. But I had to shake myself off, and go 'enough about me,' and make sure my kid's OK. Once they diagnosed him, we were able to itemize the issues."
Toni credits early diagnosis with her son's improving condition.
"I'm lucky," she says. "I try to tell most parents 'don't dismiss the signs.' It's OK. When you find out early, you can get them all the help they need. A lot of people try to put it under the backburner … 'it's OK, my uncle used to do that, or a friend of the family used to do that years ago.' It's not OK. Moms tend to know a little more. Not to say anything bad about dads, but moms tend to know a little more and see those signs."
Article continues below advertisement
For Toni, those signs included a lack of social behavior.
"He had no eye contact," she says. "He wouldn't look at anyone. He'd play off by himself. I remember they thought he was hearing impaired. He was 1 ½, 2 years old, so it's hard to diagnose, because he won't throw the ball when he sees the color. I had an older son, so I had something to compare, not that you should compare kids, but I had a prototype to look from. He was not developing like his brother on all levels. He had limited speech - years behind his age."
While Toni was getting help for her Diesel, her marriage to Keri, whom she wed in 2001, began to suffer.
"It was challenging when we first found out," she admits. "No one tells you this part – but Suzanne from Autism Speaks told me 'Toni, the divorce rate is 80% when you have a special needs, autistic kid.' No one talks about that part because the parents blame themselves. Making decisions about therapy is going to cause you to bicker and fight a bit. It played a little bit of a role in mine. Not the complete role, but it was definitely a role."
Article continues below advertisement
Despite the hard times, there are rays of hope shining through. Five years after he was diagnosed, Diesel's condition has drastically improved.
"He's a totally different kid," she says. "Completely different kid. Family members we haven't seen since he was younger are like 'oh my God, what happened? He's talking, he's social, he's playing with other kids!' We still have a long way to go, but we've come such a long way. And he's in public school now, mainstream school. He's still in the special education program, but the point is that he's coming out of autism. I'm very lucky."
She credits using one ABA (applied behavior analysis) therapist instead of several.
"I think one person is best to hone in and help itemize your kid, and prompt those deficits that he or she may have."
Video games have also had a positive impact.
"A lot of people say video games can be bad for kids, but I disagree. I think it's the best thing for an autistic kid. Their dexterity muscles to get sharpened. It helps their occupational therapy."
Article continues below advertisement
Because he's seen Diesel through his struggles, her eldest son Denim, 9, has grown in his compassion.
"Their relationship is great," she says. "I remember my older son, though, his friend would say to him, 'what's wrong with your brother? He's weird.' Kids are honest. I remember my oldest son used to act a little different. He loved his brother, but there were moments when he was like 'oh yeah, my brother's different, my friends think my family's weird.' Once I talked to my son - you have to talk to the other siblings – once I spoke to my son and let him understand what was going on, he got it. Now he's protective of his brother."
And her relationship with the father of her sons has strengthened.
"Now we're past that point, and we understand 'look, we have a kid to raise, and we have to get past that and make the best decisions for him. Now things are great. We're best friends, we're still separated – but we're best friends, and we realize the goal is our son Diesel."
This spring, the family will celebrate Easter together April 24, and it will be a brighter day thanks to the Lindt Gold Bunny Celebrity Auction, which raises funds for Autism Speaks.
What are their Easter traditions?
"We always make Easter bunnies," she says. "We make baskets altogether as a family. We dye eggs. We're going to get our Lindt Gold Bunny. I always get a Gold Bunny, so it's a great thing. And my kids, we do the Easter egg hunt. We always have fun with Easter time."
Here's my pic with Toni:
Toni has teamed up with celebrities including Reese Witherspoon, Carrie Underwood, Orlando Bloom, Jennifer Garner, Kim and Kourtney Kardashian, Gwyneth Paltrow, Sarah Jessica Parker and Jane Lynch, who signed porcelain versions of the iconic Lindt Gold Bunny to be auctioned off at ebay.com/LindtGoldBunny to benefit Autism Speaks. And, catch Toni in her reality show, Braxton Family Values, on WE TV beginning April 12.