NEWS
Hugh Jackman Calls Daughter "White Foods Girl"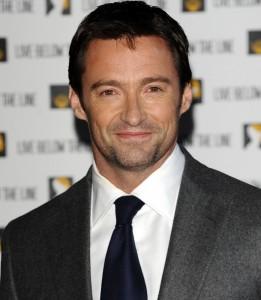 Hugh Jackman's son Oscar, 11, will eat just about anything.
"He's very adventurous," the actor, 42, tells me during the Kimchi Chronicles premiere party held Tuesday at NYC's Spice Market. "More adventurous than me. He'll eat spicy food, you name it. He'll eat everything. Korean barbecue – he really likes that."
Hm, how did he get so lucky?
"He was born that way," Hugh says, holding an empty glass filled with ice, lemon and black straw.
Article continues below advertisement
Still, it didn't transfer over to his little sister Ava, 5.
"My daughter – we call her the white foods girl. Pasta, mashed potatoes, hot dogs, pizza. She likes it down the line."
Food is a huge part of Hugh's life, which is why he signed up for Kimchi Chronicles, which is a food fantasy travelogue.
"I ate some spicy stuff," he says. "There was some very hot, spicy, blow-your-head-off kind of stuff. A couple things, I had to suck it up because the cameras were rolling."
How did he soothe his tastebuds? Milk?
"There's a miracle bread, I thought. I don't know. I jumped in the pool to cool off."
Being passionate about exotic foods comes naturally for the Aussie actor.
"I love food, all types of food. I love Korean food, Japanese, Italian, French. In Australia, we don't have a distinctive Australian food, so we have food from everywhere all around the world. We're very multicultural, so we grew up with lots of different types of food."
Article continues below advertisement
In the Jackman household, wife Deborra-Lee does most of the cooking, but Hugh also does his part.
"He makes great crepes," she says. "He does the Sunday morning breakfast. I'm more your Asian fusion."
Hugh adds, "She's very, very, very good."
And their date nights always involve food.
"My wife's belief in life is never waste any meal. She'd rather not eat than eat a bad meal. So sometimes we will walk for two hours, and we always go back to the first place we looked at."
Luckily, Deborra-Lee takes care of his hoofs.
"I give foot massages," she says.
He adds, "Daily. That's not bad to say, is it?"
She says, "Every day, darling."
The couple mingle with celebs including Jill Zarin, Heather Graham and beau Jason Silva before calling it a night.