NEWS
Kevin Jonas Wants 70 Kids?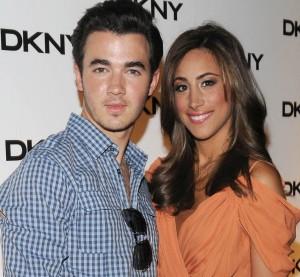 Kevin Jonas and wife Danielle will certainly be busy over the next few years. The couple, who wed in 2009, are eager to start a family to rival Brangelina's brood.
"I can't wait," Danielle tells me with a laugh during DKNY's Sunglass Soiree at The Beach at Dream Downtown in NYC last week.
"It's going to be part of our journey very soon, but not right now, exactly," Kevin, 23, tells me.
Danielle adds, "We want to enjoy being married. We're newlyweds!"
Article continues below advertisement
Hm, how many kids is ideal?
"70," Kevin says with a smile. "No, no. Four's big. I would like two or three at the most. I think that's the perfect number. I I don't know about too many after that."
For now, the duo plans to relax this summer.
"Hopefully I'll be taking these sunglasses to the beach real soon," Kevin says. "We're happy to have time to actually enjoy it. The last four summers in a row, I've been on tour, so to actually have a summer where you can relax and lay by the pool and go visit family and see friends, it's nice."
They'll also spend time getting to know each other better.
"I'm a very messy person, and she didn't know that before we got married," Kevin says.
Here's my pic with the Jonas Brothers:
For more on Kevin and Danielle, pick up the OK! on newsstands now. The cover line is "Inside Kim's Bridal Shower."