NEWS
Sandra Bullock & Ryan Reynolds Can't Stay Apart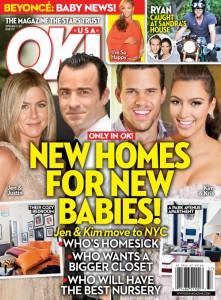 Anyone who saw The Proposal knows that Sandra Bullock and Ryan Reynolds have insane chemistry and it looks like the good friends and co-stars have finally taken their relationship to the next level! The latest issue of OK! has all the details of the on-going evolution of Hollywood's next big power couple.
While Ryan and Sandra have shied away from proclaiming their deepening relationship in public, insiders say that lately Sandra and Ryan have been having a hard time hiding their delight in each other's company.
Article continues below advertisement
OK! GALLERY: SANDRA BULLOCK & LOUIS BARDO HANG TIGHT IN L.A.
This doesn't come as a surprise to anyone who knows the couple. "For years, their friends have been telling them to get together," confides a source close to the couple. "It was like everyone could see that they were crazy about each other except for them."
Over the past few weeks the couple has been seen repeatedly seen together at Ryan's movie premiere, Sandra's Hollywood Hills home and even vacationing together with her 19-month old son, Louis in Wyoming's Grand Teton National Park.
IN THIS ISSUE: JESSE JAMES CRAWLS BACK TO SANDRA BULLOCK
Though, for the most part the couple prefers to stay home together. According to an insider, trying to keep their romance private isn't the only reason Sandra and Ryan's stay in most nights — they're homebodies!
"They like to order takeout, watch a few favorite TV shows and chill out. They've got that in common: They're both very down-to-earth people."
FOR MORE ON SANDRA & RYAN'S BURGEONING ROMANCE, PICK UP THE LATEST ISSUE OF OK! — ON SALE NOW!