NEWS
Josh Groban Gets Obama Jitters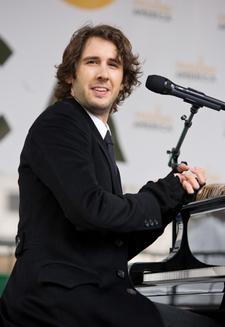 Classical pop singer Josh Groban is used to performing in front of millions of people everywhere — from the Oscars to the 2002 Salt Lake City Olympics. But all of that paled in comparison to his most recent gig — singing in front of President Barack Obama at his Inaugural celebration concert on Jan. 18.
Groban, 27, was one of several celebrities and performers, including U2, Beyonce, Mary J. Blige, Sheryl Crow, Bruce Springsteen and Stevie Wonder, who stood on the steps of the Lincoln Memorial at the We Are One: The Obama Inaugural Celebration.
Article continues below advertisement
"I was very nervous," Groban told OK! at the Huffington Post Pre-Inaugural Ball on Jan. 19. "Heathy nerves though. I try not to get terrified. I think we all wanted to do our best and take a breath and realize that nobody has a harder job than he does right now."
Luckily for Groban, he got the Presidential approval for his performance!
"He said, 'great job, great voice and thanks for being here,'" Groban says President Obama told him after the show. "And I just told him that it was an honor to sing for him and I was available for anything he ever needed, just to let me know."
Groban, who is busy working on a new album right now, says not to be surprised if he writes and Obama-inspired tune!
"I wouldn't put it past me to do it," he says. "I think a lot of us are experiencing what's going on in our country right now and to be young and to be in this historic moment, it's hard not to sit down at the piano with pencil and paper and jot a few things down."
Groban has been so inspired by Obama, that on Tuesday the singer braced the cold along with two million other Americans as he watched Obama be sworn in as the 44th President of the United States.
"It was the first political event I've ever been a part of that I've ever been so proud to be a part of," he says.
Be sure to pick up the latest issue of OK! for eight pages of exclusive inauguration coverage and photos!
By Laura Lane