NEWS
Andy Cohen Dishes on 'Real Housewives': Miami Is the Last Stop on the Train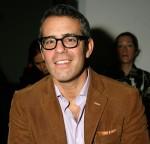 When Bravo launched the Real Housewives of Miami, it seemed like there was hope for a franchise in every city. However, Bravo's Andy Cohen exclusively tells OK! that Miami is the last stop for the Housewives train. Last night, OK! talked to the host with the most as he helped celebrate MCC Theater's 25th Anniversary in NYC. Andy sounded off on some of the most controversial housewives in seasons past and he even told OK! which franchise he would love to see Whitney Houston star in!
Article continues below advertisement
When asked about which city he would look to next to find more housewives, he told OK!, "I really feel like we're done." So is Miami the last stop on the Housewives train? Andy answered, "Yeah."
WHAT WOULD THE COUNTESS DO?: INTRUSIVE PRESS; OVERZEALOUS SUITORS
But if any housewife thinks this is her chance to star in a spin-off series like Bethenny Frankel, she should think again. Andy explained of the other housewives, "I think they're all good where they are."
Article continues below advertisement
OK!: Bethenny Frankel (formerly of NYC and now star of Bethenny Ever After).
AC: Hilarious!
OK! NEWS: REAL HOUSEWIVES ENDURE TERRIFYING EXPERIENCE IN NYC BAR
OK!: Nene Leakes (of Atlanta and now star of Celebrity Apprentice).
AC: Bam!
Andy continued to gush about Miss Leakes, "She's just in your face and fun!"
He then told OK! that he would also like to see Whitney Houston kick it with Nene and the gang on The Real Housewives of Atlanta. "I'd like to see her shake things up with those women." Maybe she could team up with Kim Zolciak for "Tardy for the Party Part II"!
for a "Tardy For the Party Part II"!