NEWS
Spotted!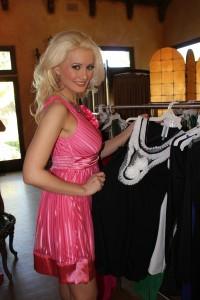 Holly Madison checks out some AMI clothes during a photoshoot in Los Angeles. Holly was overheard saying "My favorite piece for Spring is definitely the cover-ups. AMI has really cute, light dresses that work great as cover-ups, especially for pool parties in Vegas!"
Terry O'Quinn from LOST was just seen purchasing a mattress at Sit 'n Sleep in Santa Monica, CA on 2828 Wilshire Blvd on Tuesday, February 8.
Kat Deluna went to Rita Hazan Salon in NYC on Tuesday for color with Rita Hazan and a blowout with Andre Rodman.
Singer R Kelly was spotted Wednesdaynight relaxing fireside in The Library at The Sebastian, a boutique hotel that opened in Vail just last month.
Whitney Port wearing Miriam Haskell's Crystal and Hematite Plated Miriam Haskell Coil Bracelets from the Fall Collection to Tuesday night's Justin Bieber: Never Say Never premiere in Los Angeles.
On Wednesday, music superstar Sean Kingston held his Official 21st Birthday Celebration at Premiere nightclub in Hollywood. Sean was seen hanging out with Tristan Wild on the red carpet picking up a pack of 5 Prism Gum. Once inside the party, the pair posed for pictures with Ray J.
Maria Shriver spotted at Nick Chavez Salon in Beverly Hills getting her hair done while later Arnold Schwarzenegger comes in to pick her up.
Brooklyn Decker wearing Vhernier's Cuscino bracelet in rose gold and coral to last night's "Just Go With It" premiere in New York- February 8.
Article continues below advertisement
Recently engaged True Blood hottie Joe Manganiello, picking up Trivial Pursuit and Catch Phrase at the Rosewood Crescent Hotel at a pre-Super Bowl party hosted by Modern Family's Sofia Vergara.
Rebecca Gayheart spotted with her baby girl and a Little Giraffe blankie on January 27 in Los Angeles while running errands.
Pregnant Alicia Silverstone was spotted at M Café Melrose in Los Angeles on February 9.
Karina Smirnoff attends the Girlactik Beauty launch at Sweet E's Bakeshop in Los Angeles on Tuesday, February 8.
Mario Lopez and Victoria Secret model Candice Swanepoel dined on Hard Rock's Hickory-Smoked Pulled-Pork Sandwiches while filming EXTRA on Feb 9 on the marquee at Hard Rock Cafe New York. Candice and fellow models were the show's guests speaking about Valentine's Day.
Kelly Bensimon on the red carpet at the Altoids and Cinema Society screening of Cedar Rapids. Everyone wanted to know what she was wearing—J. Crew and Hermes.
On Tuesday pop sensation Justin Bieber dropped by the Radio Disney studios for a Take Over with Ernie D to talk about the premiere of his new movie Justin Bieber: Never Say Never and his Valentine's Day plans.
Gossip Girl's Jessica Szohr attends the Jimmy Choo fragrance launch event on Wednesday at Saks Fifth Avenue flagship in New York.
Cee-Lo Green, multi-Grammy nominee, hit up San Diego's hottest nightclub FLUXX Thursday night to begin his Grammy weekend performance circuit! Cee-Lo arrived around midnight after jet setting to San Diego from Los Angeles on Steven Spielberg's private jet.
Nicki Minaj sent Regis Philbin a Valentine this year in the form of a bouquet from her new Pink collection at 1-800-FLOWERS.com.
Vince Vaughn was at newly opened Chicago hotspot Public House on Thursday night. He was drinking Matilda and Left Hand Milk Stout paired with a bunch of assorted food selections including smoked pulled pork flatbread, dry rubbed french fries, calamari and brisket sliders.
Suri Cruise spotted with her Little Giraffe blankie on February 9 at Science World in Vancouver.
Taraji P. Henson and friends spotted enjoying the Artichoke Pizza at the after party for the Red Dress Heart Truth Fashion Show at Avenue in New York on Wednesday evening. Other guest included Selita Ebanks, Jeremy Piven, Reggie Bush, Stephanie Pratt, Suzanne Somers and Lo Bosworth.
Anne Heche looking stunning in a white lace dress at the Altoids and Cinema Society screening of her latest film, Cedar Rapids. The actress spent the majority of the evening talking to a heavily bearded gentleman at her VIP table.
Michelle Trachtenberg, who was spotted shopping at the new Gap 1969 SoHo store in NYC. Trachtenberg picked up the Skinny Boot Jeans, which are exclusive to the SoHo store, as well as the Design Edition Combo Booties and the Two Tone Loose Scarf, among other items.