NEWS
Eat Me: A Gourmet Kobe Beef Carpaccio Dinner!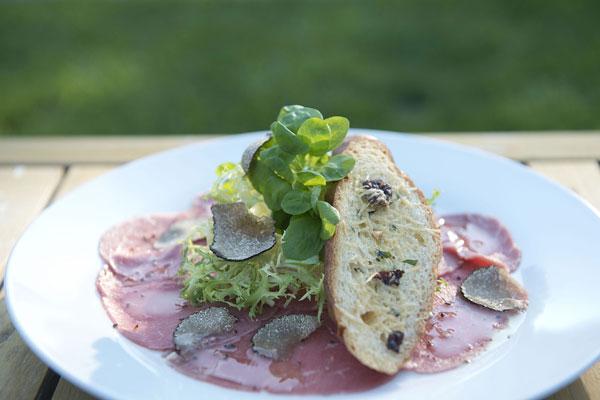 This meal may look too pretty to dig into, but that's one battle you should probably drop. A girl's got to have her gourmet, right? You're feasting your eyes on a plate full of Kobe Beef Carpaccio with shaved black truffles, mache, and crostini. The thoughtfully put-together recipe was created by celebrity caterer Andrea Correale of Elegant Affairs. And yes, a celeb's tastebuds enjoyed this fancy dinner, too. It was prepared for Top Chef host Padma Lakshmi, a lady who definitely knows good food, at a special event in the Hamptons.
Article continues below advertisement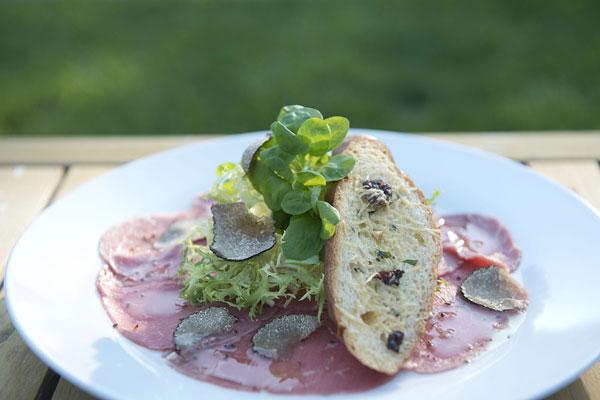 Directions:
Wrap the beef tightly in plastic wrap. Refrigerate the beef for two hours before slicing it. Before slicing the beef, lay out chilled plates that are all brushed with olive oil and a little salt.
Trim off the fat from the beef. Next, slice the meat as thinly as possible. Lay four squares of plastic wrap on your work surface. On each piece of plastic, place an equal amount of sliced beef. Position the slices so they do not overlap. Top with another sheet of plastic wrap. Press down to seal.
Use a rolling pin to gently tap the beef so that it spreads out and becomes wafer-thin, and, if possible, about the same size as the serving plate.
Remove the top layer of plastic wrap and invert the carpaccio on a plate. Next, peel off the other piece of wrap. Drizzle with a little olive oil and spread over the beef.
In a bowl, dress your greens with 2 tsp. of olive oil, black cracked pepper, and sea salt. Add lemon juice to taste. Scatter the dressed greens over the plates of carpaccio, followed by the Parmigiano and Truffle shavings. Drizzle the entire plate with the truffle oil. Grind more pepper over the dish. Serve this with a piece of toasted bread.
Will you try this recipe? Let us know how it turns out by tweeting @OKMagazine and leaving a comment below
.