NEWS
OK! TV Recap: Big Brother Players Go After the Power of Veto—Leaving the Winner With a Big Decision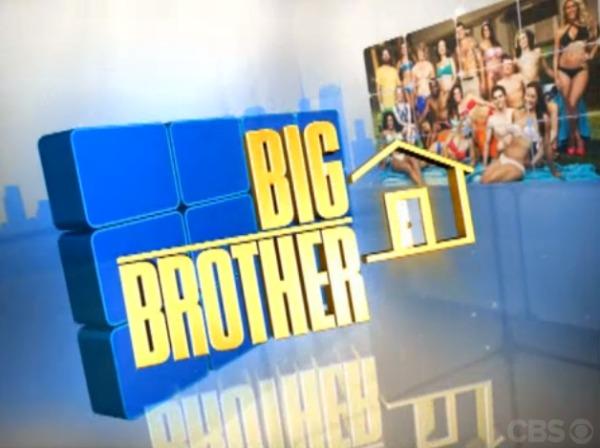 Article continues below advertisement
"Being on the block is awkward," says Kaitlin. "Nothing prepares you for those stupid sympathy hugs that no one really wants to give you. However, I am not going to let this get to me."
We'll see about that.
Aaryn reveals that she already knew she was going to be put up because she is a "straight shooter" and has "a strong personality."
I guess those are euphemisms for prejudice and straight-up mean?
Kaitlin and her showmance Jeremy immediately huddle to talk. She says she's not nervous about going home.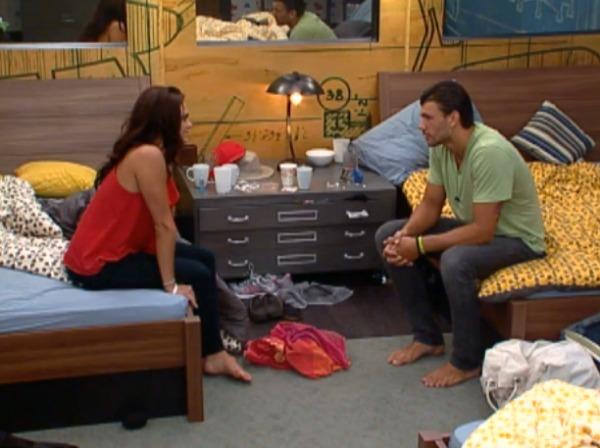 Jeremy isn't a complete idiot (cough), and he reveals he's pretty sure Elissa is going to win MVP "yet again, thanks to you America," which he says in a snotty voice, ensuring he will never be granted the honor and it will continue to go to Elissa.
He also knows Elissa will be gunning for him. "I'm going up. There's no doubt in my mind," he tells Katilin, who tells him to win the Veto so they will both be safe and Aaryn goes home.
Article continues below advertisement
Meanwhile, Helen holds a meeting with her side of the house—Amanda and McCrae—to discuss the third nominee. "We have a lot of pull with Elissa, who we're pretty sure will be MVP this week," says Helen.
OK! News: See Which Former Big Brother Player Is Pregnant!
As a group, they discuss going after Jeremy, Spencer and Howard, a.k.a. the former "Moving Company."
Helen decides to have a conversation with Spencer to see if he, unlike Howard, will tell her the truth about everything he's done. Spencer is smart enough to spill the beans and he tells Helen all his secrets.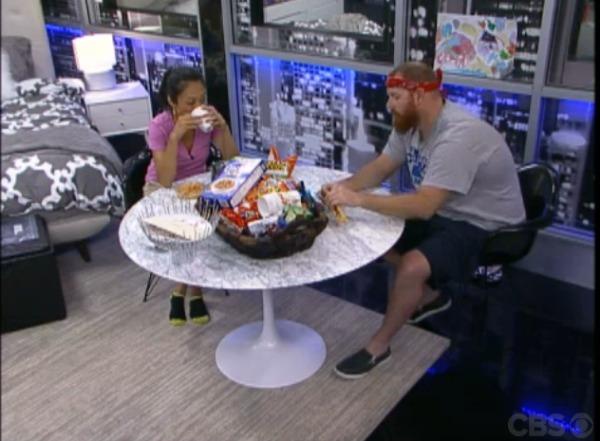 Helen starts crying and tells Spencer that he and Howard were the two people in the house that she trusted most and that "I look like an idiot in front of America now."
Of course, Helen's too smart to ever look stupid.
"When it comes to Spencer and Howard, I'm crying a lot, but I'm using it as a strategy," Helen later reveals.
And it works like a charm. "I want us to get as far as possible together," says a totally duped Spencer to Helen, who promises to grant him a second chance.
Article continues below advertisement
And in not-so-surprising MVP news…Elissa wins!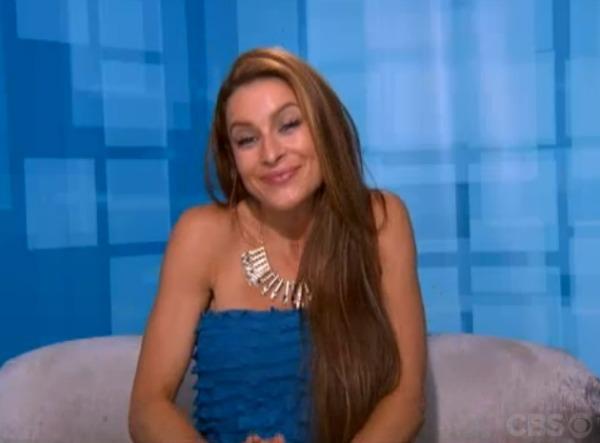 "To be nominated three times in a row for the MVP is the best feeling," says Elissa. "Now that Helen's HOH and I'm MVP, we get to pick all three nominees, which is huge."
Something tells me Elissa's sister, Big Brother 12 winner Rachel Reilly, is very proud right now since clearly her tutorials on perfect game play are really paying off!
That means Elissa is rightfully suspicious when Amanda and McCrae try to convince her that she needs to nominate Howard as the third person on the block.
"Amanda and McCrae are trying to get me to do their dirty work," says Elissa. "And it's very frustrating and I feel very used."
And when suspicions arise in the Big Brother house, it's always smart to keep those thoughts in the back of your mind.
Photos: See Why Modern Family Star Jesse Tyler Ferguson Is Annoyed With Big Brother
That's exaclty what Elissa does when she talks to Helen in private. "This is as much your HOH as it is my HOH," Helen tells her bff, promising that they will make decisions together.
Article continues below advertisement
The two decide to backdoor Jeremy no matter what. And Elissa thinks she will put Spencer up as the pawn despite Amanda and McCrae's agenda to have Howard go home.
The house then learns who has been chosen as the third nominee.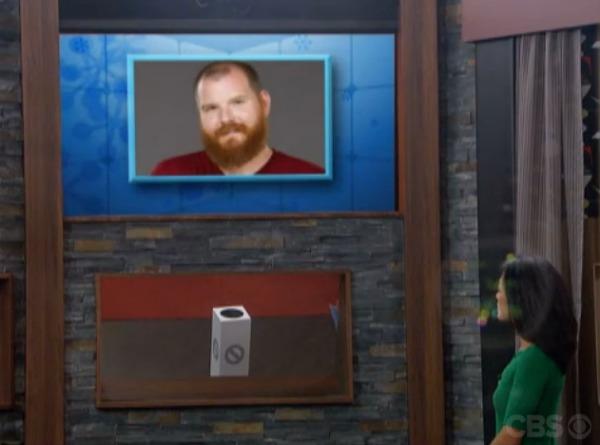 "I decided to nominate Spencer because I was not happy with the way that Amanda and McCrae were pressing me so hard to put Howard up," explains Elissa. "I'm not going to buckle under the pressure because I have to play my game the way I feel is right."
The most pivotal point in the game follows with the Veto Competition.
The players are the three nominees—Spencer, Aaryn and Kaitlin—as well as GinaMarie and Candice.
The odds are stacked against Jeremy and Helen is ecstatic.
"It's crazy how things change," Aaryn tells Kaitlin of all the shifts in power.
"He's going home," responds Kaitlin of Jeremy.
"Oh my God, I'll throw up," says Aaryn.
Somebody better come prepared to tonight's show with a barf bag…
Article continues below advertisement
OK! News: See How the Houseguests React to Aaryn's Racist Comments
It's time for the Veto Competition, hosted by Judd (who?)!
One by one, contestants go out to the backyard where they find that the Jones family has moved in with their impressive art collection. Players must bounce on a trampoline to see over a fence in order to get glimpses of the art collection—reproductions of famous masterpieces using houseguests' faces.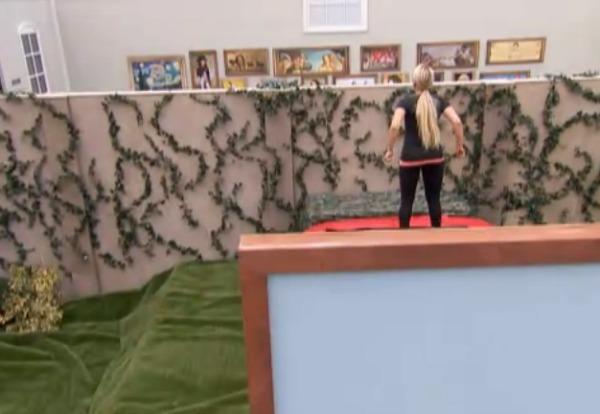 They must then run to a box of copies and hang them on their own wall in the exact same order in the fastest time possible.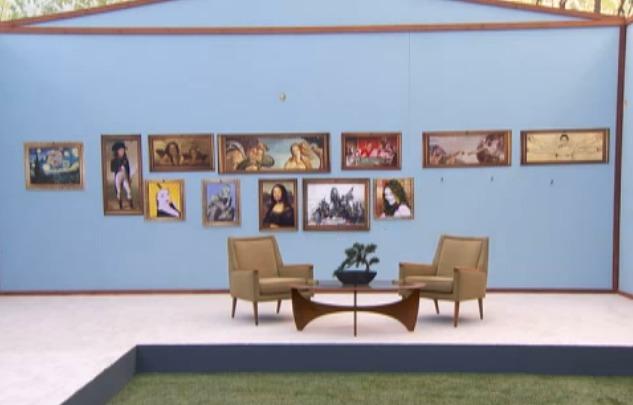 Long story short:
Candice does fine.
Aaryn obviously hates everyone whose faces are depicted in the paintings.
"By the grace of God and Nick, I did well in this competition," says stalker GinaMarie.
Spencer struggles with the trampoline.
Kaitlin is focused on winning despite having a couple minor problems.
Article continues below advertisement
Helen just wants to win to get Jeremy out of the house.
The winner? Kaitlin with an impressive time of 7:09!
Now everyone is wondering if she will take herself off the block or keep herself up for elimination so she can save Jeremy.
Naturally, Jeremy doesn't waste any time to protect his biggest fan: himself. "I just want to make love to you right now," he tells a clearly titillated Kaitlin.
He then tells America that he's "going to get her to do what I need her to do."
Let's hope that Kaitlin surprises us and discovers she has an iota of self-respect.
Jeremy and Kaitlin hatch a plan to get Helen to put up Howard. Too bad Helen isn't so into the idea and quickly shoots Kaitlin down.
"There's no possible way to save him," realizes Kaitlin, who later asks Jeremy why he had to be so cocky in the game.
Now it all boils down to whether or not Kaitlin chooses to use the power of veto.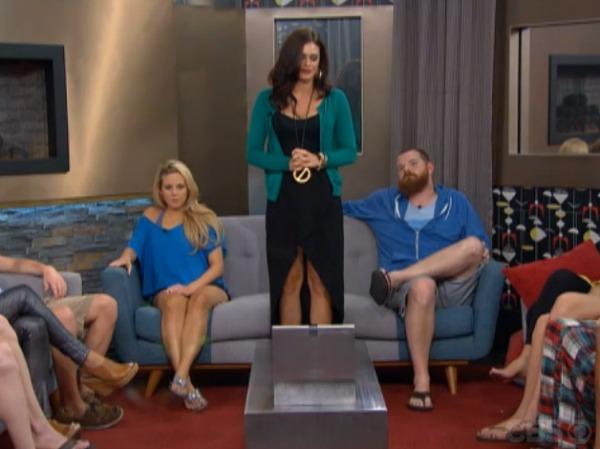 Kaitlin smartly decides to use the Power of Veto on herself.
Helen gets her way and puts Jeremy up in her place.
"Well, no surprise there," says Jeremy. "So these fools want to try and backdoor me? I laugh in the face of danger."
Jeremy should get ready to laugh in the face of Julie Chen because barring a last-minute miracle he's gone.
Do you think Jeremy should go tonight? Follow me on twitter for more Big Brother updates, and then sound off in the comments section or tweet us @OKMagazine.