NEWS
2009's Most Intriguing New(ish) Couples!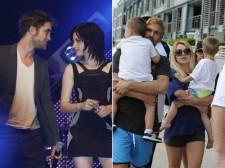 Dec. 30 2009, Published 7:25 p.m. ET
View all comments

While 2009 has been a big year for celebrity break-ups, it hasn't been all heartbreak and restraining orders. In fact, there has been some cute coupling going on in the last 12 months. As part of OK!'s Year in Review, here's our look at the pairings that tugged at our heartstrings in 2009.
10. Marilyn Manson and Evan Rachel Wood
•How They Hooked Up: After having split up last year, Marilyn seems to think he won Evan back by finally being his true self. The formerly shocking rocker announced he was back together with Evan in a December. "I think that that really paid off because I'm back with Evan," he explained. Apparently, Marilyn had to love himself before he could love another!
Article continues below advertisement
•Why They Intriqued Us: If Marilyn and Evan being one of the oddest looking couples isn't enough to keep us intrigued, Marilyn's affair with Evan, a much younger woman, certainly is! The Wrestler actress was reported to be a huge factor in the split between Marilyn and ex-wife, Dita Von Teese.
•Chances of Survival Through 2010: Doesn't look good — Once a cheater always cheater! However, since Marilyn claims to have had some type of epiphany there could be hope that he'll stick with Evan and not move on to someone even younger!
9. Nick Lachey and Vanessa Minnillo
•How They Hooked Up: Nick said he met Vanessa while judging a beauty pageant in 2006, the same year his divorce to Jessica Simpson became finalized. It might have been a rebound, but the time this couple spent apart over the summer seems to have made their relationship even stronger now. Nick explained, "I was single for a minute there, and then we've kind of patched things up there."
Article continues below advertisement
•Why They Intrigued Us: Nick and Vanessa broke up in June, but then reunited shortly after and we all love happy endings. But really, this couple keeps us intrigued because mainly because we don't want Nick and Jessica to not be able to love again! We'll settle for Nick if he's the one to remarry first, but it looks like Jessica may beat Nick to the alter with Billy Corgan! A source told OK!, "He's very caught up in Jessica's mystique and believes this is a relationship worth pursuing."
•Chances of Survival Through 2010: All signs point towards an engagement, but 2010 may be too soon for this couple. A source told OK!, "They'll definitely get married." Although, they don't sound like they're in a hurry! The source added, "They're just enjoying the rekindled romance romance right now."
8. Freida Pinto and Dev Patel
•How They Hooked Up: The Slumdog Millionaire co-stars tried to keep their relationship a secret, but Dev's mother, Anita, confirmed their relationship in April! "Freida is really beautiful and I am really happy for them,"Anita said. "Yes, we knew he was flying to Israel to see her." So cute!
Article continues below advertisement
•Why They Intrigued Us: Other than the fact that they're a gorgeous looking couple, we loved that they found love working on a film like Slumdog Millionaire. We lost our Notebook stars Rachel McAdams and Ryan Gosling — let us at least keep Jamal and Latika together!
•Chances of Survival Through 2010: They're a match made in Bollywood heaven! We hope this happy ending ever comes to an end!
7. Reggie Bush and Kim Kardashian
•How They Hooked Up: Kim's relationship with the NFL player was a slow progression, but when the couple split in July they acted fast to have things patched up by the fall!
•Why They Intrigued Us: Love was certainly in the air for Kim's sisters Khloé Kardashian Odom and Kourtney Kardashian in 2009 and we just couldn't stomach the though that poor little Kim would be left out!
•Chances of Survival Through 2010: The driving force behind this relationship seems to be that all the other Kardashians are doing it. Kourtney had the baby, Khloé had the wedding, so what's left for Kim to do with Reggie in 2010? They'll survive, but they'll make a spectacle of it along the way!
Article continues below advertisement
6. George Clooney and Elisabetta Canalis
•How They Hooked Up: George and Elisabetta met in Italy where the model hoped on the back of his bike and she's been following him ever since!
•Why They Intrigued Us: We don't like to see George with anything because that way everyone can pretend they're with him! George has managed to keep his relationship last with Elisabetta since August and we can't help but wonder where it is going!
•Chances of Survival Through 2010: It doesn't look good. Okay, maybe that's just wishful thinking, but the world is not ready for a George to marry!
5. Katy Perry and Russell Brand
•How They Hooked Up: Shortly after Russell hosted the VMA's which Katy performed at, the two took their relationship public in October when they were spotted together in London.
•Why They Intrigued Us: It's weird to see admitted sex addict Russell, who has never been shy when it comes to talking about his promiscuous past, finally in a committed relationship. It's just so crazy it might actually work!
Article continues below advertisement
•Chances of Survival Through 2010: Wouldn't be surprised if we soon find out that this couple is headed to the alter! We can hear the bells now!
4. Jude Law and Sienna Miller
•How They Hooked Up: Jude and Sienna reunited when they both happened to be performing on Broadway at the same time. Jude was perhaps all they needed to forgive and forget and rekindle their romance.
•Why They Intrigued Us: Well, we're shocked that Sienna would even consider get back with a man she dated for two years, was engaged to and then ended in 2006 after he had an affair with his children's nanny! Not to mention he just had another child with a former girlfriend!
•Chances of Survival Through 2010: Since the couple were spotted playing with Jude's children on the beach in the Caribbean over the holidays we're thinking they'll survive a good part of 2010. But the real question is, has Sienna forgiven or just forgotten? Sources told OK! that Jude's been doing romantic things for Sienna. "It was sweet, the type of thing he never did the first time around," the source said.
Article continues below advertisement
3. Britney Spears and Jason Trawick
•How They Hooked Up: Sometimes good friends make excellent boyfriends. And beginning in June, Britney was rumored to be dating her longtime agent and friend and then the adorable photos came!
•Why They Intrigued Us: We want to see Britney back on top and stay on top! No more scary shaved head Britney! Britney and her boys seem like one big happy family with Jason and that's just what she needs.
•Chances of Survival Through 2010: If the wedding doesn't happen by the end of 2010 the proposal sure will. A source told OK!, "Britney said she does not have a doubt in her mind that she wants to spend the rest of her life with Jason."
2. Taylor Lautner and Taylor Swift
•How They Hooked Up: Working together on films seems like a good way to meet a significant other. The Taylors met on set of the film Valentine's Day and an insider told OK!, "They've fallen head over heals for each other." The two dated for a little over three months supporting each other throughout their many successes in such a short before they called it quits just before the new year.
Article continues below advertisement
•Why They Intrigued Us: And so the country singer fell in love with the werewolf. This could was just so darn cute how could you not be intrigued! They both had the biggest years of their young careers and then teamed up as the ultimate power couple!
•Chances of Survival Through 2010: Well, they already didn't make it and we doubt they'll be reuniting. As much as loved T-Squared we can understand how even slight age gap like they had could make things tough. We're said to see them separate, but we're looking forward to see who they hook up with in the new year!
1. Kristen Stewart and Robert Pattinson
•How They Hooked Up: Ever since Kristen chose Robert to play her Edward the chemistry between these two has been too much for even them to handle! Once Kristen was a single lady, Rob didn't waste time claiming her as his own once they became reunited in Vancouver to begin filming in April.
•Why They Intrigued Us: 2009 really was the year of Rob and Kristen! Why were we so intrigued? Because Edward and Bella became real-life! Need we say more!
•Chances of Survival Through 2010: We wouldn't be surprised if Rob and Kristen's relationships slows down during their break from filming, but will definitely fire back up once they're working together again! We can probably see this private couple together in public again soon as a source told OK!, "They'll reunite to help promote the DVD release of New Moon."