NEWS
HULK'S GLADIATOR DAZE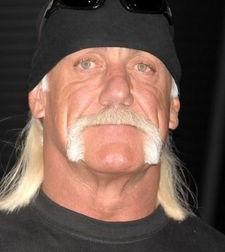 Weekend warriors are getting the chance to battle again as American Gladiators is coming back to TV. The new version of the '90s competition show that pits buff gladiator types against everyday contestants premieres Sun., Jan. 6 on NBC.
My Los Angeles counterpart, Carole Glines, caught up with hosts Hulk Hogan and Laila Ali and some of the gladiators to get the scoop on the latest writers' strike-proof reality offering.
Article continues below advertisement
I think it's going to be a monster hit. If these guys turn into larger than life characters, they'll develop a fan base," said Hulk, who was "a huge fan" of the original series.
The former wrestler and Hogan Knows Best star, 54, is content to be a host because he doesn't think he could compete on the new show. "You'd probably be rolling me out of here in an ambulance after the first event," he laughs.
The intensely physical show will have contestants jousting, rock climbing, scaling a giant padded pyramid and engaging in hand-to-hand combat among other contests.
Hulk's co-host, former professional boxer and Dancing with the Stars celebrity Laila said the show is "visually impressive—the water, the fire, people are going at it. The contenders are feisty people. They're talking smack! I think viewers will be rooting for the contenders. They'll really get to know them with background stories that are so interesting."
Article continues below advertisement
The gladiators will be ready for them, however. Don Yates, who goes by the Gladiator name "Wolf," said, "this is the new American Gladiators—it's bigger, better, faster, and stronger. I'm crazy. I'm wild. I tend to howl a lot."
Female gladiator Jamie Kovac, who is known as "Fury," warned, "Don't make this girl angry! I go all out."
Alex Castro, whose gladiator name is "Militia," originally came to America on a boat from Cuba. He became a performer with the Cirque de Soleil and later joined the Marines.
Meanwhile, Mike O'Hearn, known by his gladiator name "Titan" is sure to be a female fan favorite with his superhero face and buff body. Carole smartly inquired if he's available. "I'm not married," he revealed, adding with a smile, "I'm an Aquarius. I like long walks on the beach. I have three dogs."
I may have to sign up!