NEWS
OK! Exclusive: Matthew McConaughey Busts a Move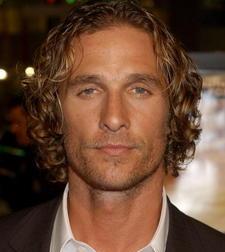 It sounds like actor Matthew McConaughey might not want to go on Dancing With the Stars.
While the shirt-phobic beach bum might look good twisting and contorting on a surfboard, those precise moves don't translate over to the dance floor, which is a shame for his girlfriend, Camila Alves... and the general public.
In between shots of Grey Goose, Matthew and Camila were spotted shaking their fun stuff at NYC's West Village club Socialista on Saturday night. Here's how one eyewitness relayed Matteo's moves to OK!: "You know how it's really embarrassing when your dad dances like an idiot at your wedding? Well Matthew's dance moves make your dad dancing look like Justin Timberlake!"
Article continues below advertisement
Ouch.
Blending an array of "slo-mo tango-waltz-flamenco," the 38-year-old followed up the eyesore with a favorite move — balancing on an imaginary surfboard. However, hanging 10 only made the We Are Marshall stud look "a lot like an angry chimp leaping with his arms in the air."
But the hilarity wasn't over... not by a long shot. "He then squatted down by Camila's ankles and hopped around her a bit," recalls the partygoer. "At one point he was dancing very close to her, doing some stilted, awkward grinding as he stuck his tongue out in her face."
For her part, Matt's model girlfriend remained "pretty calm and unruffled," but her beau's unbecoming moves did make her blush a few times.
Matthew, though, appeared to be blissfully unaware of his rhythmic shortcomings, dominating the floor all night long and doing something else that he's very familiar with while at it.
"By the end of the night, his shirt was mostly undone."