NEWS
How Jessica Szohr Got Buff Enough For Skinsuit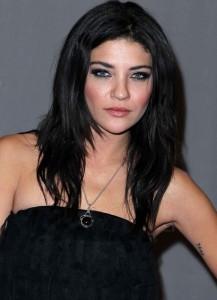 When Jessica Szohr got word she would be the skinsuit model for SoBe Lifewater, she trained with her uncle Brian in NYC and checked in with pal Ashley Greene, who modeled for the campaign last year.
The ad, which appears in the Sports Illustrated swimsuit issue out February 15, required the Gossip Girl star, 25, to shoot in the Costa Rican jungle.
"It was awesome," she tells me. "It was 11 hours, so it was a lot of standing and laying down. I remember Ashley was like 'you'll take naps when you're laying down.' That's what I certainly did."
Article continues below advertisement
She continues, "That's what surprised me the most – the time. Seeing the final product … all the detail, and the scales for the lizard and all that – you can see what took them so long."
Hm, how did she prepare?
"I did a little bit of cardio," she says. "I did yoga, which gave me definition in my arms, and I was trying to have definition in my stomach. I worked out hard. After being in a gym, you're super hungry all the time because you're burning all these calories."
She says self-consciously, "I did his workout, and hopefully it looks OK."
Although Jess survives on grains, vegetables and fruits during the week, she splurges on pizza, ranch dressing and French fries on the weekend.
Her weakness?
"I'm a huge fan of Cheetos. I had to cut those out a little bit because they're probably the worst thing for you, so I've cut those out majorly. I still sneak them in here and there, but that was a big thing for me to not have. I still allow myself to have them once in awhile."
Article continues below advertisement
She adds, "I think the whole thing about being in shape is a balance. I always think with a balance, you don't drive yourself crazy, and that's what I did: I didn't totally cut it out; I allow myself to have them every once in awhile."
Despite baring all in paint form, don't expect Jessica to go fully nude by posing for Playboy.
"This was a beautiful experience and very tasteful and artistic," she says. "I'm the oldest of five kids, and I have a lot of teenage girls that watch the show, so I think this thing, tastefully done, is the most I would do."
Here's my pic with Jessica:
Pick up the OK! on newsstands now for Jessica Szohr's What I Ate Today feature. The cover line is "Bachelor Brad: Love, Lies and Betrayal."