TRUE CRIME
'This Wasn't Her': Brooklyn Mom Who Jumped Off NYC Building With Daughter Was 'Suicidal' & 'Depressed' From Medication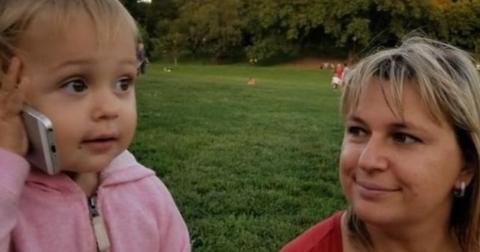 View all comments
A Brooklyn mom who jumped to her death on Sunday, January 10, with her daughter in her arms had been diagnosed with clinical depression and was scaling back on her prescription medication leading up to the suicide.
Article continues below advertisement
Oksana Patchin, 39, had been reducing her dose of medication over the last few weeks, her mother told the New York Post. It is unclear if this was done without medical supervision, but patients are advised to consult their doctor before they stop taking antidepressants.
Patchin's mother, Anna, said that her daughter was prescribed three different medications a few months ago but wanted to fight her depression without them. Patchin and her husband reportedly split up last summer, and she was struggling to cope with the divorce.
Article continues below advertisement
"She was taking less and less," Anna said. "I said to her, 'Oksana — February, March, you will be finished.'"
Article continues below advertisement
"She actually became depressed and suicidal after the medications," a friend revealed. Patchin reportedly told her pals that the drugs made her feel weird but had not expressed a desire to stop taking them.
"From looking at her, after taking those drugs she got worse," the friend said, adding that Patchin "really regretted starting the medication."
"She felt she was addicted to them. She was never addicted to anything before."
Article continues below advertisement
On Sunday, Patchin and her daughter, Olivia, 5, went to Manhattan's Hell's Kitchen neighborhood and visited one of Patchin's friends. She was then seen on surveillance footage on the roof of a building on West 53rd Street.
Article continues below advertisement
"I want people to know that this wasn't her," a friend said. "She was a warm, loving person who cared about everyone."
Patchin did not leave a suicide note and her mother did not know what medication she was on but believed one of the pills was to help her sleep. After the incident, cops visited Patchin's apartment in Brooklyn and seized several bottles of the medication.
"Now police will do exam to see what medicine she took," Anna said.
A friend explained that Patchin was taking Klonopin and Trazodone since June after she went to a psychiatrist due to anxiety and panic attacks.
Article continues below advertisement
A GoFundMe has been set up to cover the funeral expenses. "For many years they lived a very happy life but 2020 took it's toll on Oksana's mental health and on January 10th, 2021, Oksana took Olivia in her arms and jumped from a high building to a very sad and tragic death," the fundraiser explained.
Article continues below advertisement
"Oksana was a kind and loving mother who adored her daughter. We would have never thought anything like this would ever happen. She clearly suffered in ways we will never know," the page said. "Olivia was born a fighter at just 3 pounds, 1 oz, Doctors said she would have multiple disabilities, but she was perfect in every way. Angelic, beautiful and full of love."
We're thinking of Patchin's family during this difficult time.