NEWS
More Trouble For Matt Gaetz As Former Friend Agrees To Plead Guilty To Sex Trafficking A Minor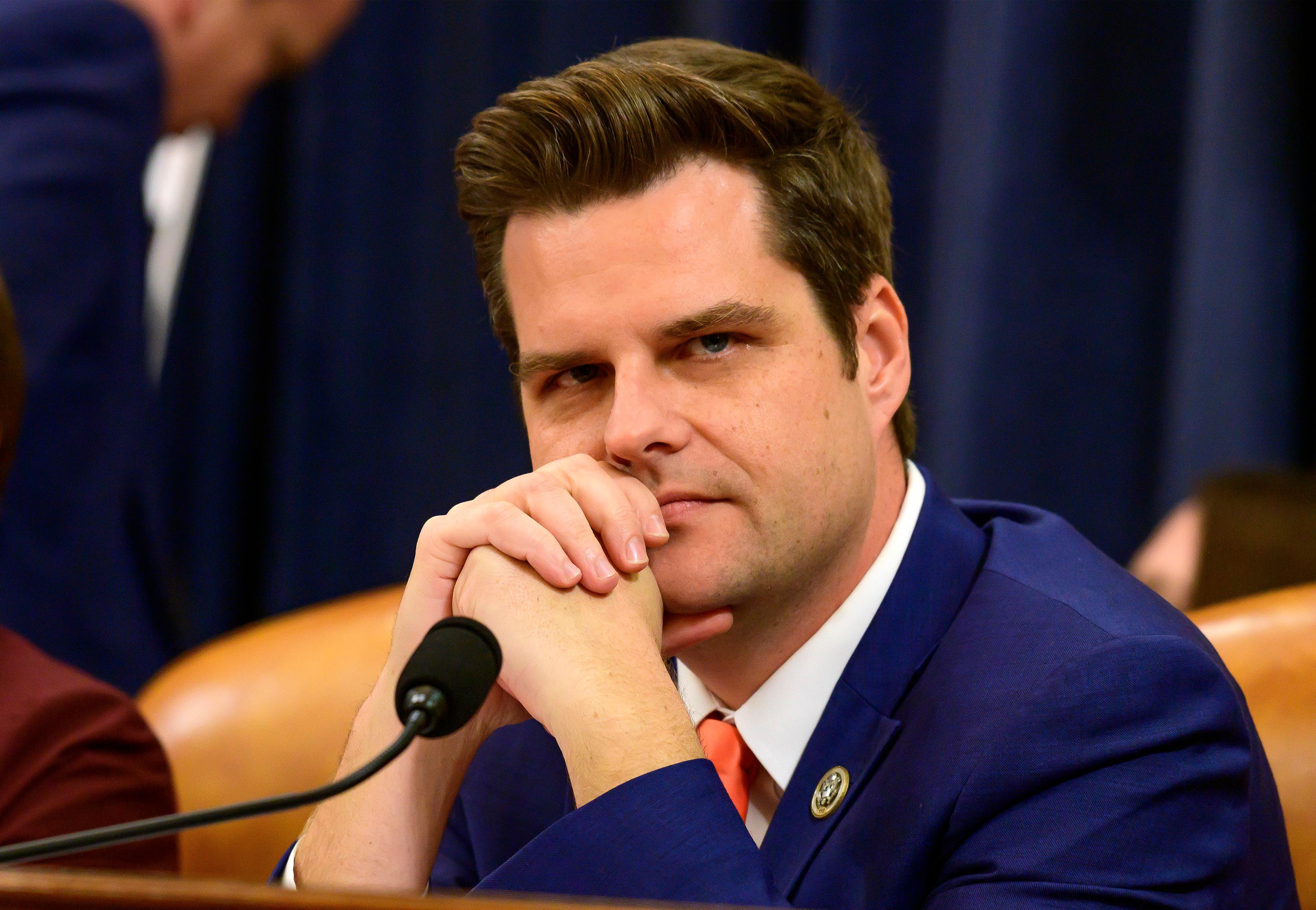 Things have gone from very bad to extremely serious for 39-year-old Florida congressman Matt Gaetz. Joel Greenberg, a former party pal of Gaetz, has admitted in court papers on Friday, May 14, to a long list of federal crimes, including sex trafficking of a 17-year-old girl, and agreed to cooperate with the Justice Department's ongoing investigations. 
Article continues below advertisement
The one-time associate of Gaetz — who served as a tax collector in Seminole County, Fla., until he was indicted last year — has officially become a key witness for the prosecution should the once respected congressman and friend to Donald Trump be charged.
As things stand now, Gaetz is being closely looked at over whether he violated sex trafficking laws by allegedly having sex with the same 17-year-old Greenberg has admitted to sex trafficking. 
Article continues below advertisement
While Greenberg, 37, did not name Gaetz in court papers filed by prosecutors in Federal District Court in Orlando, he did admit that he "introduced the minor to other adult men, who engaged in commercial sex acts" with her, according to documents, and that he was sometimes present. 
Article continues below advertisement
Clearly, this could mean serious trouble for Gaetz if Greenberg should be forced to testify under oath as to which adult males did he witness having sex with the minor. Greenberg has already told investigators that Gaetz did indeed have sex with the girl and knew that she was being paid, according to a person briefed on the inquiry, per the New York Times.
On Friday, Gaetz once again denied any knowledge or wrongdoing and said in a statement issued by his campaign that he had not been named in the new court filings. "Congressman Gaetz has never had sex with a minor and has never paid for sex," the statement said. 
Article continues below advertisement
While Gaetz continues to deny, deny, deny, prosecutors revealed in the documents that they have evidence they say corroborates Greenberg's admissions. Whether or not to charge Gaetz with a federal crime is now up to the highest level of the Justice Department.
Article continues below advertisement
The court documents paint a picture of Greenberg recruiting the underage girl as well as other women for sex. "In particular, Greenberg was involved in what are sometimes referred to as 'sugar daddy' relationships where he paid women for sex, but attempted to disguise the payments as 'school-related' expenses or other living expenses," the documents said. Other payments, according to the documents, went towards "'school, 'food,' and 'ice cream.'"
The friendship between Gaetz and Greenburg began when the two were involved in the same Florida political circles around the time Donald Trump was elected president in 2016. The two became fast friends when they realized they shared the same deviant interests outside of politics. 
Article continues below advertisement
Greenberg reportedly also admitted he met the 17-year-old on his boat, but denied having sex with her then, even though he did admit to paying her $400 and again paid her $400 at a hotel — where they did have sex. According to the court papers, they had sex seven times in exchange for money before the girl turned 18. 
Gaetz's involvement occured when, according to Greenberg, he and the congressman had sex with the 17-year-old who claimed to be 18 years old at the time. 
Greenberg is now facing 12 years in prison but could get a much lighter sentence for cooperating with the Justice Department.