NEWS
Nick & Joe Jonas Grab Coffee And Relax In L.A.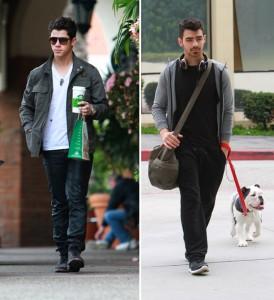 The newly single Joe Jonas is proving that dog really is a man's best friend. Joe was spotted out in L.A. yesterday walking his little pup, Winston, while his brother, Nick Jonas, grabbed some Starbucks. Joe and his former girlfriend, Ashely Greene, just announced their breakup last week. The two began dating back in 2010 and everything seemed to be going well. Joe has been working on his solo album and Ashely had been working on the newest addition to the Twilight series in Vancouver.
Article continues below advertisement
Joe graced the cover of Details this month and gave the inside scoop on his and Ashley's relationship, and it sounded like everything was perfect! Joe told Details "I think what works about it is she really puts my feelings first. She understands my busy schedule. She'll fly out to my shows – she's been to places in South America that I can't even pronounce."
Nick and his brothers were rocking out at The "Concert for Hope" last Sunday when Nick broke into Rebecca Black's famous Friday song. Check out his rendition below!