NEWS
OK! Exclusive: Britney's Newest Man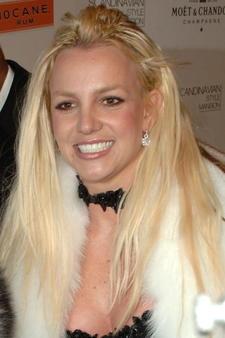 With only days to go until Christmas, it appears that a grinch may have stolen Britney Spears' holiday cheer, as the troubled pop star appears to be in the center of yet another downward spiral. But perhaps the newest man in her life can help her out of the hole she's in.
The latest round of craziness began Saturday night when the singer, wearing the same turquoise top (sans bra) and jeans as the previous day, left her gated community at 7 p.m. and drove to a gas station where, in typical Brit fashion, she used the restroom, where witnesses overheard her unleashing a profanity-filled tirade at her friend Sam Lutfi over her cell phone. And when that unpleasant conversation came to an end, the "Toxic" singer decided to phone up a recording studio to book space. When she was given the bad news that there weren't any rooms available, witnesses tell OK! she let loose on the poor receptionist, hollering through the phone, "I need a f**ing studio now. Don't tell me you don't know who I am. F*** you. I need it now, not tomorrow!"
Article continues below advertisement
Brit must have liked her experience at that gas station restroom as she visited two more quickie-mart toilets over the next hour! At one point, the mother of two invited a photographer named Phillipe to join her and her assistant in the car. The young man accepted the invite and spent the next hour or so in the backseat as Britney tooled aimlessly around L.A. in her Mini Cooper, blowing through red light after red light.
Eventually, the trio ended up at Malibu eatery Taverna Tony's, where Phillipe was given the heave-ho from the car, and where Brit went inside to change into a red top. After a brief stop at the restaurant, the singer and her assistant asked Phillipe to take them to a Target store. And when he told her that Target was closed, she responded with, "I don't care. Take me there anyway."
Believe it or not, things only get stranger. Apparently changing her mind about wanting to go the now-closed Target, Britney asked her new photog pal to place a call to another photographer named Adnan to summon him to Malibu. This is the same photographer who assisted Britney at an L.A. Quizno's earlier this year, and who she confessed on-camera was "cute."
Article continues below advertisement
After receiving the call Adnan raced down to Malibu from his sister's home in Santa Barbara. When he arrived, Brit hopped into his car and told her assistant to follow. Through the window of Adnan's car, witnesses could see Britney playing with Adnan's hat, while they drove for over and hour back down to L.A.
Around 11 p.m., Brit finally rejoined her assistant in her car, but the pair soon came to a sudden stop, causing a major traffic jam as Britney hopped out of the car to try to take a
photo of a wall mural on the side of a building. When the dozens of photographers following her got in her way, the singer lost her cool, screaming, "You guys get a million pictures of me. Just let me get one for myself. No I can take it. I don't want you to take it. Move out of the way you f***ng a***holes. You stupid f***s. I can't see. Move! I can't take a picture with you standing there, you m***f***rs. You're f***ing stupid. Shut up."
Article continues below advertisement
However, only minutes later, when she realized that she had dropped her camera during the tirade, and when one of the same photogs she had just screamed at helped her get the memory card out of the damaged camera, Brit appeared to have changed her attitude completely. "I love you guys," she told the assembled crowd with a smile. "I'm just in a bad mood. It's not like me to get mad at you."
A couple hours later, Britney must have gotten the urge to use another public restroom as she pulled into a Walgreen's drugstore to make her fourth public pitstop of the night. From here, the pop star headed home... but not for long.
After only 10 minutes at home, Brit once again exited the gates of her private road, wearing her THIRD outfit of the night — though it's more of a costume than an outfit. Donning a pink wig and a leopard mini-dress, she made her way to the Peninsula Hotel, where Adnan is waiting to escort her up to a room.
An hour later, Adnan left the hotel for a few minutes to buy cigarettes. When asked if there's any romance going on he responds cryptically, "It's hard to make babies when
Article continues below advertisement
you're just having lunch."
After scoring some smokes from the photogs, Adnan retreated to the hotel room where he remained until 10:25 a.m.! Upon leaving, he joked to his fellow snappers that he and Brit are getting hitched, which some insiders think might not be unbelievable. "He's one of the hotter-looking photographers out there," one insider tells OK!. "He and Brit have been flirting for months now. He's always the one to pump her gas, or hold her car door open for her, or run crowd-control to help her out. He always puts himself in the position of being the knight in shining armor."
It appears that the love-fest isn't over, as Adnan drove from the hotel to Britney's house, where he remained into early Sunday afternoon, around the same time Britney is supposed to be visited by her two young boys.