NEWS
OK! Exclusive: Kendall & Kylie Open Up in Interview & Photoshoot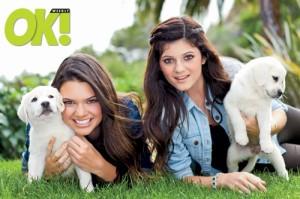 Just because they don't share the infamous Kardashian name, younger sisters Kendall and Kylie Jenner are not to be forgotten in the shadows of older sisters Kim and Kourtney Kardashian and Khloé Kardashian Odom. The reality starlets open up in this week's OK! about Keeping Up with the Kardashians, the future and sisterly love.
As the youngest two members of the Kardashian clan, Kendall, 14, and Kylie, 13, didn't get much screen time when the show premiered three years ago. Now, the girls have grown up and are claiming bits of the spotlight for themselves.
Article continues below advertisement
Kendall's a model and Kylie is a spokesperson for Sears, but the sisters aren't letting the distractions of fame come between them and reality of everyday life (that's actual reality, not reality tv).
OK! GALLERY: THE 'SPIN CROWD' COLLIDES WITH KIM & KOURTNEY KARDASHIAN
When asked about following her sisters into modeling, Kylie answers, "Right now, I know I'm looking forward to high school and I still haven't really figured out what I want to do yet."
Both sisters are still very thankful for the show that skyrocketed their family to fame. While Kylie loves the video archive it provides of her family's adventures, Kendall is grateful to Keeping Up with the Kardashians in another way.
OK! GALLERY: KIM KARD BUNDLES UP IN THE NOT-SO-COLD BIG APPLE
"I remember my mom telling us we were going to do a show," Kendall says. "I was shy, so it was kind of weird, but it's definitely helped me open up a bit."
Article continues below advertisement
While the show often chronicles the family's rollercoaster relationship with one another, Kylie insists that, "We Kylie and Kendall argue over silly things like clothes, but we're sisters and best friends."
OK! NEWS: "I'M DOWN FOR SOME HOOK-UPS"
It is this family connection that has helped make the Kardashians a household name. In fact, big sister Kim couldn't be prouder of her Kendall and Kylie.
"I love this OK Magazine feature on Kendall and Kylie. These pics are sooo cute!! I'm so incredibly proud of my beautiful sisters," Kim wrote on her blog.