NEWS
OK! Interview: Shannon Elizabeth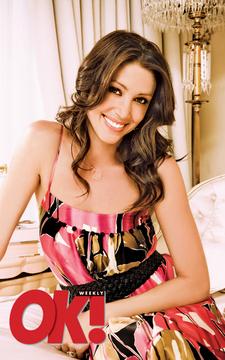 She may don the floor-length ball gowns and sequins perfectly on Dancing With the Stars, but don't think Shannon Elizabeth has a passion for fashion in real life. "I'm much more the girl next door than people think I am," Shannon tells OK!. "I'm a tomboy." A tomboy who can dance though — Shannon has been surprising viewers with her fancy footwork on the ABC hit. Taking a break from rehearsals, the cardshark and animal lover chats with OK! about tearing up the dance floor, poker, dressing down and how she feels about American Pie.
Article continues below advertisement
Why did you decide to do Dancing With the Stars?
They've asked me for the last two years and I've just never been able to do it with my schedule before. This year, it all worked out perfectly and I was really excited to give this a shot.
Were you nervous about doing the show at all?
Only being kicked off early. I didn't want to be the first one off! I'm very competitive and it's definitely a very tough, nerve-wracking type of thing to take on. But I kinda felt like I didn't want to miss out. Everyone kept saying it's the best time they've ever had, so I wanted to see what that was like.
Were you a fan of the show?
I've watched it every year except I think the first year so I am a fan, and I've known somebody on the show I think almost every year. I know Stacy Keibler, Joey Fatone, Willa Ford. So, I mean, I've heard year after year how great it is and how much fun they're having.
What's your relationship with Derek Hough like?
We've gotten along from day one. We never had that uncomfortable getting to know each other time. We've always kinda just hit it off and he's a lot goofier than I think people know. They portray him as this really sweet innocent kid, but he's really fun and goofy and crazy, so I think our personalities are kind of similar. We can be sarcastic and joke around with each other and have a good time.
Article continues below advertisement
Describe the training and rehearsals.
The training's been really rough. We've been, like, doing five hours a day. For the first two dances, we had a month to work on them and I think we all got tired of the first song we had.
What do you think of all the costumes?
Luckily they custom make them to fit styles you like. So they have us go through all magazine pages and say this is the kind of neckline I like, this is the kind of bottom line I like, waistline, and they just sketch things for you. So that's kinda fun. That part has actually been okay. It's dancing in the heels that's been difficult. The costumes are great. Derek has ideas for every dance.
How would you describe your own fashion style?
I'm super, super casual. I like boxer shorts or jeans or tank tops, tennis shoes and flip flops. That's about it for me. I'll wear boots, because if I'm going out at night I'll wear boots over heels because they'll have a little bit of a heel and look a little nicer, but they still feel low to me and that's about all I can wear.
Where do you go shopping generally?
Article continues below advertisement
I don't think I really do go shopping. Somehow clothes just kind of end up in my closet. I do not like shopping; I'm not into it.
Do you have a stylist?
No, my girlfriend helps me occasionally if I need it. If I go shopping at all, it's usually if I'm out of the country and I just want to go out and see the country and see what the city has to offer. I don't really do it here too much.
What's the most you've ever spent on a single item of clothing?
I don't usually spend that much. If I spend a decent amount, it's usually on a jacket, something that I'll wear over and over. Probably more than 500 bucks, tops.
Besides jackets, are there any other items you wear to death?
I wear jeans with quote-unquote wifebeater tank tops all the time and layer stuff over the tank tops. I love that look because you can take a top that might be too revealing and you layer that underneath and it makes it casual. Things I wouldn't be able to wear, if I layer that under that, it's all fine.
Article continues below advertisement
Before DWTS started, what was your weekly workout routine like?
Nothing. Not much of anything. I mean, I've gotten really lazy. When I was modeling, I worked out every day or other day. That's also when I first moved to town and I didn't know anybody and I didn't have much of any other life besides work. It's changed over the years and I've gotten lazy.
What's your diet been like?
Pretty bad, especially now that I've been dancing so much and I've been eating so much more. During the day, it's anything we can find right before or right after practice. Usually I'm going from one place to another and there's no time to stop for lunch so you grab something on the way.
You're very involved in animal rescue.
Animals have always been a passion of mine, being able to help them because they can't help themselves, and I think that people have treated them so badly over the years and it's just not fair. It's something I feel like I can help make a difference. I have my own animal rescue but I'm changing it around right now so I don't want to name it. But we get animals off the streets and out of the pounds, and we get them healthy and find them homes. It's such a fulfilling thing when you take an animal who is about to die and you see the change in them and they're happy and they're grateful. When you do it with as many as possible, it's something very close to my heart.
Article continues below advertisement
How about poker? Why do you like it and how long you've been doing it?
I've been doing it for about four or five years now. I've lost track, something like that. I like competition; I like conquering something I want to be good at, and poker is definitely a huge challenge for me. You're always learning and trying new things and the game is always changing.
Do you still get American Pie fans approaching you?
It's weird, it's been awhile now. I don't realize how much time has passed, and I feel like sometimes the guys that'll say stuff to me are a little bit older and I forget that they were that age when it came out. It seems really weird. Now I really am starting to feel older! It will always be a big part of me. I think everybody is remembered for something for awhile and then they can reinvent themselves.
For more on Shannon, check out her gallery and pick up the latest issue of OK!, on newsstands now!