NEWS
Red Carpet Confidential: Leelee Sobieski Admits Marriage is 'Sexy'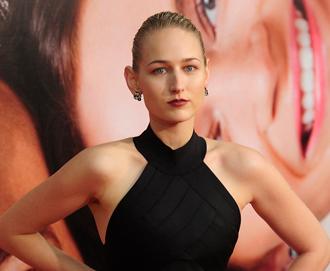 Being married is a status Leelee Sobieski greatly respects.
The actress, 28, tied the knot with menswear designer Adam Kimmel in August 2010, after giving birth to their daughter Louisianna, now 3.
She misses nothing about the engagement phase.
"I heard someone say the other day that they thought it was sexier to call someone their fiancé instead of their husband or wife," she tells me Wednesday at The Five-Year Engagement premiere, which kicked off NYC's Tribeca Film Festival.
Article continues below advertisement
"I guess because it feels more open, but I think being married is way sexier, because it's really like your soul partner in a permanent fashion, and then you strive for it to be something permanent, and that type of commitment and trust, if you can achieve it, is so good for the soul."
Although her engagement lasted over a year, the NYC 22 star wouldn't encourage following her lead.
"I feel like the ideal length is three months. I go short and sweet on the engagement. I did have a longish engagement, but I think short and sweet is best."
OK! BLOGS: RED CARPET CONFIDENTIAL: KATRINA BOWDEN GETS INTO WEDDING MODE
For Leelee, being married means her body is meant for her husband alone.
"I feel like there's something that changes when a woman is more developed in the chest area, where you have to be more demure, because, knowing from experience, when I was younger and so excited motions to chest that this thing changed on my body that wasn't supposed to, because my mother was not endowed in a similar fashion, and then when it happened to me, from my grandmother, I was so excited – I really wanted to show the world! And now, I realize that it's for my husband, and when I keep it to myself, it's more alluring."
Article continues below advertisement
Although the pair unite to raise their daughter, they sometimes have their differences, and little Louisianna has learned to make sense of it.
"She got bitten by mosquitoes and she's a little bit allergic," Leelee explains. "So that she wouldn't scratch, I have this all-natural bright blue nail polish, and I put it on her. It was very cute. My husband saw her, and said 'oh you have green nail polish.' She said, 'no, it's blue.' She came back to me, and said 'daddy says it's green.' I said 'what do you think?' And she matched it to her pants. 'No, it's blue.'"
OK! BLOGS: RED CARPET CONFIDENTIAL: MOTHERHOOD MAKES LEELEE SOBIESKI BELIEVE IN FUNCTIONAL FASHION
Of course, Leelee sees elements of herself in her daughter.
"She likes reading a lot. She's really silly, she's really verbal, she has a high forehead. I think she has my tush. But she looks a lot like my husband, too."
Are more kids in their future?
"I would like more kids, but not anytime soon. "
Look for Leelee on NYC 22, which airs Sundays at 10 p.m. ET on CBS. And check out The Five-Year Engagement, which hits theaters April 27.