NEWS
Red Carpet Confidential: Sophia Loren's 9 Tips for Looking Great at Any Age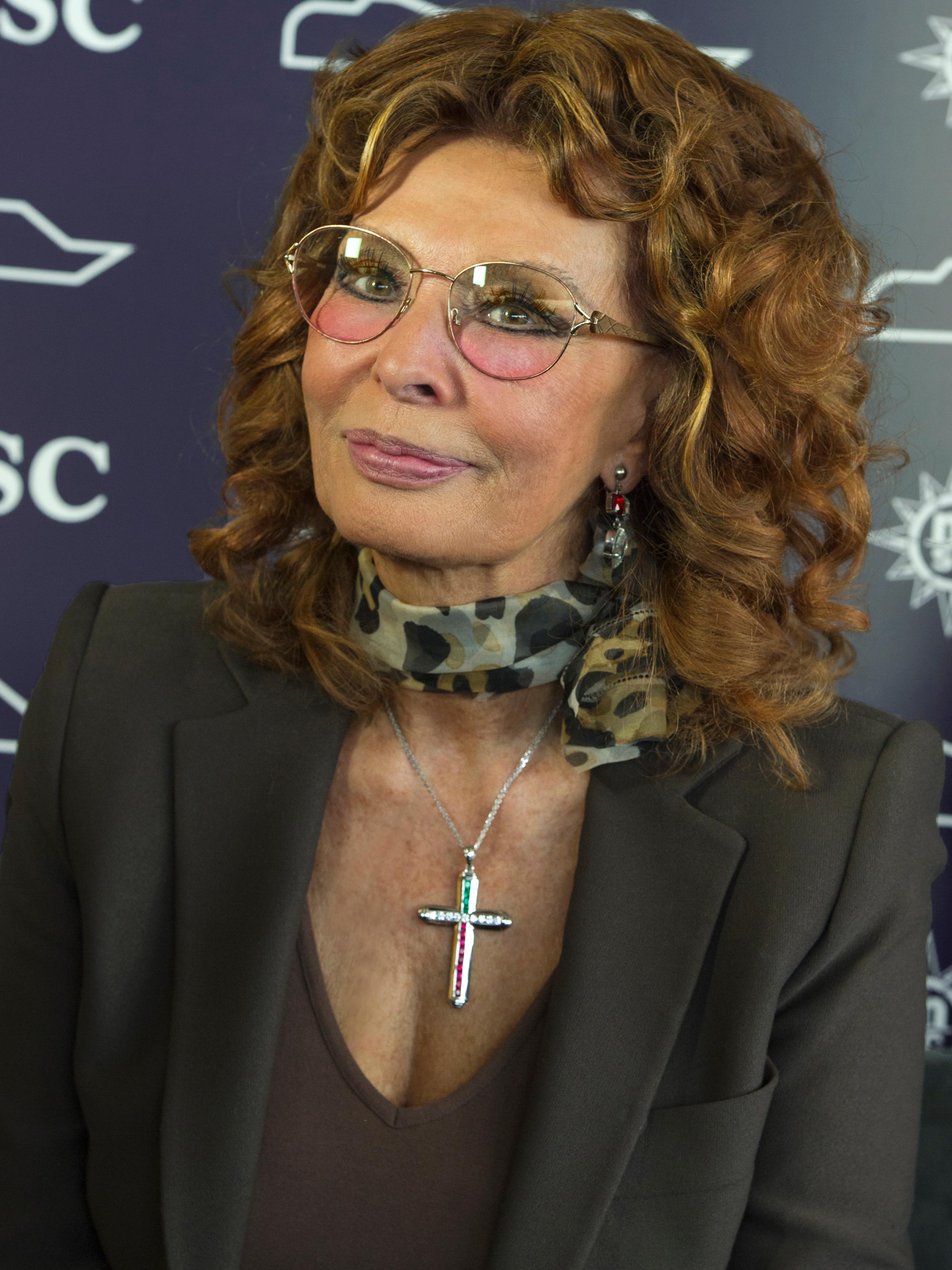 Sophia Loren doesn't mince words when it comes to her advice for looking great at any age.
I sit down with the glamorous Oscar winner, 78, this week to get her tried-and-true tips during the MSC Preziosa launch event in Genoa, Italy.
1. Diet is everything.
"Be careful about what you eat," the chic actress tells me in her signature Italian accent. "Eat very, very, very little things. Almost starve, but I don't starve, because I eat very much."
Article continues below advertisement
3. Avoid bread.
"Too much bread is not good because you get fat from the starch," she explains. "A lot of starch is no good, but some starch, yes."
4. Accept that beauty is not possible for everyone.
"Ahh, that's something that has to be within us, to be able to do that," she coos.
OK! GALLERY: MAJOR FASHION MOMENTS OVER THE YEARS
5. Fitness can work wonders for the image.
"A little exercise, which I never do is good. I walk, walk, walk, walk—yeah. That's very good for your heart."
Article continues below advertisement
6. Accept the aging process, whether it's kind or not-so-kind.
"I think it's in the DNA," she says. "If you want to look always young, maybe you should make the mistake to do some surgery, but I don't like that very much. People get so unhappy, because they make mistakes. I would be so much afraid of it. So much!" (Her skin is impeccable!)
OK! GALLERY: THANKSGIVING REFLECTION: SOME OF THE MOST GIVING CELEBRITIES
7. Savor every moment.
"You have to enjoy life," she says. "It's important because you bring out positive thinking."
8. Be careful about the company you keep.
"Always be surrounded by people that you like, people who have a nice conversation, to learn something more about other people and about yourself through the communication. There are so many positive things to think about."
9. Avoid stress.
"You have to take care of yourself. Eat not very much, relax a little bit, read, look at the sunset—you know, things that please you."
Article continues below advertisement
Time's up!
OK! GALLERY: THE BEST-DRESSED STARS THIS WEEK: 3/22/13
For the international press conference hours later, she ties on an eye-catching red bow and counts her blessings when discussing her greatest achievement. While she speaks Italian, there is a translator working with her simultaneously to change her words into English.
"For a long time, I didn't know if I would ever have children, and then I had Carlo," she says in Italian of her eldest son, 44. "That was a great moment for me."
Later in the evening, Sophia changes into a black evening gown with beige paneling to cut the ribbon during the spectacular MSC Preziosa christening event, which features fireworks, aerialists, the Roma Sinfonietta Orchestra and two other sister ships—MSC Splendida and MSC Opera—communicating with each other through music and horns connected to a light-up ball on the decks of each of the boats. So magical! So much confetti!
Article continues below advertisement
OK! GALLERY: THE JERSEY SHORE CAST SAYS GOODBYE: LOOKING BACK AT FIVE SEASONS OF GYM, TANNING AND LAUNDRY
The MSC Preziosa is a blast. Not only is there Vertigo, which is the longest waterslide featured on any ship at sea (120 meters!), but there's also the MSC Aurea Spa, Eataly restaurant, exclusive MSC Yacht Club, my personal dining spot L'Arabesque (assigned to table 914 – the Baked Alaska and its presentation is a highlight!), Disney-themed Wonderland show at Platinum Theater, Doremi Castle water adventure park for kids, adults-only Top 18 Exclusive Solarium; indoor, outdoor and infinity pool/s; Sports and Bowling Diner, Millennium Star Casino, countless bars and lounges, Graffiti's dance club and so much more!
With its dazzling array of entertainment options, delectable dining options and luxurious vibe, MSC is now the third largest cruise line in the world (based on passenger capacity).
OK! GALLERY: 20 HOT HOUSEWIVES LOOKS YOU NEED TO SEE
Still, it's hard to follow Sophia's "starving" advice when there's the Inca and Maya Buffets dishing up an abundance of food for breakfast (mmm—chocolate-filled croissants, baked apples with cinnamon, plus waffles, French toast, pancakes, omelettes, fruit bar—just before I spoke with Sophia, I had three rolls—each one looked more delicious than the previous), lunch (salad, a selection of pizza, fish, burgers-and-fries, you name it!), dessert (chocolate mousse, key lime pie and so much more!) and dinner, plus a tasty array of gelato flavors available while lounging poolside at Aqua Park. The vanilla and coconut are fantastic, but there's also a good dozen other varieties to try—passion fruit, mango and many more. Get this—there's also a pop-up Nutella bar!
Article continues below advertisement
As for the language barrier? The English-Italian dictionary and Italian language map have been very helpful. Because it's a Mediterranean cruise, it's fun to read many translations on each dish at the buffets.
Following the christening event, the MSC Preziosa sets sail for Naples, then heads to Messina. Today it's time for La Goulette, Tunisia; Thursday the ship is at sea, Friday it rolls into Barcelona, Spain; Saturday it's Marseille, France, and then it's back to Genoa. Talk about a whirlwind!
Here's the view from a room like mine. Balcony suites rock!
Feel like cruising? Visit msccruises.com or call 1-877-665-4655 to book your adventure. This is my first experience, and already I can't wait for the next one.
Who's your dream celebrity to host a cruise? Tweet us @okmagazine.