NEWS
Red Carpet Confidential: Margaret Cho Wins Body Image Battle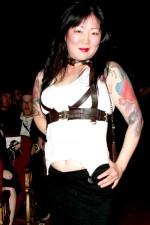 Margaret Cho stars in Lifetime's Drop Dead Diva, playing the assistant to a brilliant, thoughtful, plus-size attorney who resurfaces when a shallow model dies. While she happily tells me she just ate a McDonald's Egg McMuffin balanced on the steering wheel of her car, the comedienne didn't always celebrate the body nature gave her.
The actress, 40, who is married to artist/writer Al Ridenour, checks in from Peachtree City, Georgia, to talk body image after decades of struggling with weight issues. At last, she is finally satisfied with the numbers on the scale.
Article continues below advertisement
"I feel good about myself," Margaret tells me. "I didn't really count, like I didn't really purposely go out to lose weight. It's something that happened naturally to my body over time -- I think mostly by becoming a healthier person and not obsessively dieting and working out and being overly conscious of how I looked all the time in that regard. I think also the way that people are in my family, the women tend to lose weight when they get older, so that was a genetic advantage that I had in that regard. But I feel good about myself now in a way that's not punishing and in a way that I'm healthy. It's good."
While she admits to indulging in her vice -- Kettle Korn -- she also snacks carefully by noshing on her favorite healthy treat -- cherry tomatoes with rice cakes. "It's a good combination," she says.
And she works off any excess calories by belly dancing every day. "Music is always on, so there's always a time to dance," she says. "That probably contributed to my weightloss. I dance a lot, and I dance a lot at home. I do some gym stuff, but not that much. I've been to Egypt to study belly dance and I don't dance professionally or publicly anymore, but I still really love it."
Article continues below advertisement
She continues, "The movements are very natural and intuitive, and I love the connection that you have with other dancers."
New belly dancing BFFs are an added bonus.
"I didn't have any female friends because there were so few female comedians, so now I have a lot more female friends because I became a dancer and I was stretched into this world of women. This was really positive and beautiful for me to have great friendships with dancers."
One regret she has is that she didn't always love her body – and she's paying a heavy price.
"The great mistake is that I didn't treat myself with respect when I was younger," she says. "I was very obsessive as a dieter and I thought being thin was the answer to all of my problems and so I wrecked my health in order to become thin. This obsession landed me in the hospital with kidney problems and health problems, which still affect me to this day. I have some problems relating to my anorexia in my early to mid twenties and, you know, I'm 40. These problems will not go away and will probably stay with me for the rest of my life so those are the biggest mistakes. Those are the mistakes I would love to prevent other younger women from going through. Talking about my struggle and my issues there, I think helps people, or at least its another, a different, voice out there, one that's not so self-depreciating and not so much about punishing ourselves for feeling overweight or being overweight or whatever – but about celebrating who we are."
Article continues below advertisement
What's her biggest life lesson?
"Nothing is that big of a deal," she laughs. "Because it's not. I mean nothing is ever that big, because when you get older, you realize that everything passes and nothing's that big of a deal."
That sentiment echoes the message of Drop Dead Diva.
"Women are valued over other women because of a certain stereotype of what beauty is," she says. "I don't look at her as a plus-size woman, I don't look at her as any less beautiful than the other character that goes into her body. But it's the societal perception of what we do is more valuable."
And now, it's time for some Kettle Korn.
"It's like popcorn that is sweet and salty at the same time. It's got a carnival feel to it. It's so good and it's my favorite indulgence. Any kind of crunchy that's sweet and salty is very appealing."
Pick up the OK! now to get Margaret's Last Word. Michael Jackson and Debbie Rowe/"$100 Million or The Kids" is the cover line.