NEWS
Wedding Bells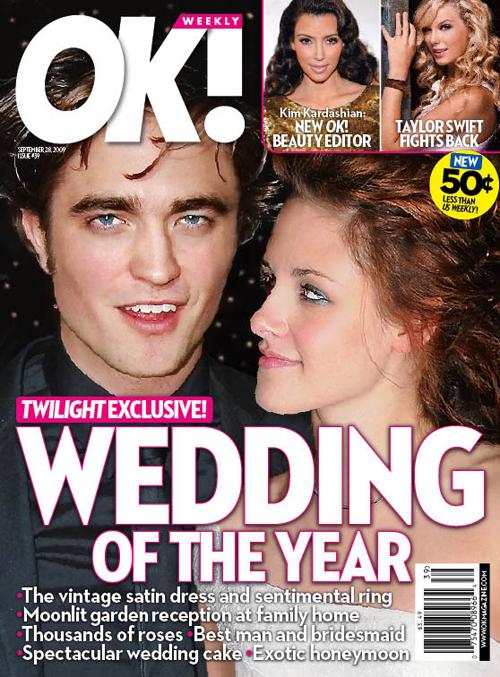 Twilight Wedding: OK! gives you the intricate details of the upcoming big-screen ceremony, based on imagery in Stephenie Meyer's cult vampire series. And just like in old Hollywood, a real-life wedding might not be far off — so far, Robert Pattinson and Kristen Stewart's relationship has mirrored Edward and Bella's.
Baby Special: Catch up on your favorite celebs' baby news: Jessica Simpson wants her own little one, Kourtney Kardashian's pregnancy reminds her how much she misses her dad, Katherine Heigl adopts, Angelina Jolie makes plans to adopt, Nicole Richie welcomes son Sparrow James Midnight to the world and much more.
Taylor Swift: The play-by-play of Kanye West's interruption of Taylor's acceptance speech for Best Female Video at the 2009 MTV VMAs (he declared Beyoncé should have won for her "Single Ladies" video). Read on for quotes from Taylor and crowd reactions. Plus, a timeline of Kanye's tantrums.
Octomom: Nadya Suleman manages eight babies (with the help of her oldest son) and fits in a workout in a park near her California home. OK! reveals the svelte mother's exercise routine.
Kim Kardashian: Watch OK!'s new contributing beauty editor get ready with top designers for the Badgley Mischka show at New York City's Fashion Week. Mark Badgley and James Mischka dress Kim in their brand-new line while the reality-show star provides some Fashion Week survival tips. Look for Kim in OK!'s next issue, hitting stands Sept. 24.
Plus: OK! remembers Patrick Swayze. Ellen DeGeneres fills Paula Abdul's seat on American Idol. George Clooney shows off his new love at the Venice Film Festival. From fringe totes to studded satchels, OK! presents the hottest new handbag styles for fall. Anna Sui and Lauren Conrad launch new fashion lines. Hair and makeup pros from new CW show The Beautiful Life: TBL explain their beauty tips for fall. Find a guide to A-lister hangouts in Dallas. And lasting impressions with Billy Ray Cyrus.
Article continues below advertisement