NEWS
Aaron Carter Calls Karina Romance Rumors "Completely False"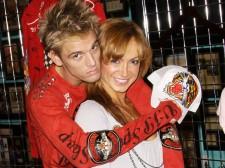 After weeks of side-stepping rumors that they are romantically involved, Dancing with the Stars partners Aaron Carter and Karina Smirnoff staunchly denied to OK! on Monday night that they're a real-life couple.
"It's completely false," Aaron told OK! backstage after the live taping. And the singer insisted there's no evidence of a romance!
"We're two people who like to be out and about. You would have seen us out already. We would have been caught," he said. "There's nothing going on!"
Article continues below advertisement
Karina laughed, "We're doing the time without doing the crime!" The pro dancer and her partner were blasted by the judges for not being sufficiently sexy in their lambada performance Monday night, and were given a low score of 18 out of 30. So, when asked if they were dating, Karina quipped, "Apparently not — 'cause we weren't raunchy enough!"
Meanwhile, Aaron also reacted to the controversial comments made by Karina's former fiancé, fellow DWTS pro Maksim Chmerkovskiy, who has not only made some cryptic comments about the Aaron/Karina rumors, but who has made no bones about having an issue with Aaron's cocky statements that he is this season's likely champion.
"People have their own opinions but sometimes with the media things get chopped up and cut around to make stories out of it. That's what happened in that case," Aaron said. But he added about the Carter/Smirnoff dance team, "It's important to embrace winning. We want to win."
By Carole Glines