NEWS
Giuliana & Bill Rancic: Fit Together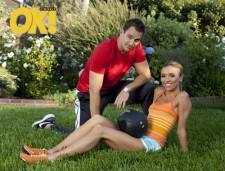 After having celebrated their two-year anniversary just last month, Giuliana and Bill Rancic, the stars of Style Network's Giuliana & Bill, prove that the couple that works out together, stays together. "That was one of the things that attracted us to each other," Giuliana tells OK! "We have the same philosophy when it comes to being healthy and in shape."
The E! News anchor and Chicago-based entrepreneur explained that upon their first meeting when Giuliana interviewed The Apprentice winner, Bill asked her if she wanted to go on a run.
Article continues below advertisement
"Giuliana kind of looked at me and said, "Or we could go to dinner,' " Bill explains to OK! during the couple's EBoost Challenge photo shoot. "She didn't want to do it… But then we got into the workout routine soon after that."
The twosome's routine should help them prepare for their next run, the Boo! Run for Life 10K in Washington, D.C. on Oct. 11 in support of renal cell (or kidney) cancer research.
The couple, who married in Giuliana's native Italy, splits their time in between two different cities: L.A. and Chicago, have started filming the second season of their hit show in September.
"The first season was about introducing the audience to our lives, and just trying to figure out who we are," Giuliana continues. "Then the second season, we are more personal."
A marital dilemma that will be explored by the athletic duo is coming to terms on starting their own family. But most importantly, where they will raise their soon-to-be had children.
Article continues below advertisement
"We are currently in negotiations," Bill says. "She's a tough negotiator. I thought Trump was tough… she's giving him a run for his money."
Giuliana recently signed a 3-year contract with E!, giving her no other option but to continue her long-distance marriage and commute to Bill in Chicago.
"We didn't want a baby at the beginning," Giuliana explains. "Now we over that we had two good years… so if it happens -- great! We would be excited."
The season finale of their reality series Giuliana & Bill will air Wednesday, Oct. 7 on Style.
By Patricia Ramos
CHECK OUT OK!'s EBOOST CHALLENGE PHOTO SHOOT WITH GIULIANA & BILL!