NEWS
Hailey Glassman Tells All About Jon Gosselin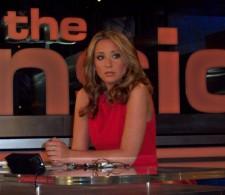 Hailey Glassman will speak out for the first time about her relationship with Jon Gosselin on The Insider panel on Thursday and Friday.
Hailey has decided to take her turn in the media spotlight and shed some light on why she's dating Jon.
"I feel I am finally going to get my chance to speak. I have nothing to hide. I hope that people see me as a human being and don't judge me from the media," Hailey tells The Insider. "I can't be the dishrag anymore. I want to continue my life. I want my name to be forgotten."
Article continues below advertisement
So to help make herself forgotten she's spilling all the details about the current state of her romance with Jon.
"We're at a point now where I don't know why I love him. He gets frustrated and angry and I'm the one who gets the brunt," Hailey says in the interview. "He'll call me and take his anger out on me. He has 'mantrums.' I shouldn't have to put up with being emotionally abused."
"I cry and say why are you so mean to me? He takes it out on me. He talks over me so I can't speak," Hailey reveals. "Sometimes he has trouble with the truth and he will dance and dance around his lies. He's like Jekyll and Hyde. But I still love him."
Hailey tells the panel that her life has completely changed since she has started dating Jon.
"I met Jon in a bubble. I'd never seen the show. I had no idea, Hailey explained. He begged me to go to France and I come home to chaos. People judge me before they meet me."
"I get threats everyday," she adds. "I get called a home wrecker and a fat whore. People will stare or point. It gets worse everyday. It's taken a toll on me. Jon sees I'm not happy. At what point is it too much?"
Article continues below advertisement
CLICK HERE FOR ALL OF OK!'S GOSSELIN NEWS AND PICS!
Hailey may get upset over what people say about her, but she has no ill-words for Kate Gosselin.
"Kate wouldn't say I was a home wrecker. I have respect for her," she admits to the panel. "She's like a lioness protecting her cubs. That's her turf."
Hailey's involvement with Jon has hurt her relationship with her own family.
"He's driven a fork between my family and I. My parents want me to be a normal 22-year-old. It's not a normal relationship," Hailey admits. "I love him, but as for my family and I, he needs to regain our trust. He lied to my mother."
So, why does Hailey stay with Jon?
"I don't want to leave him all alone. At the end of the day, I love him but I dislike him at times," she confides. "When I love someone I would never hurt them."
Tune into The Insider for the whole discussion on Thursday Oct. 29 and Friday Oct. 30.