NEWS
Joe Jackson: MJ "Worth More Dead"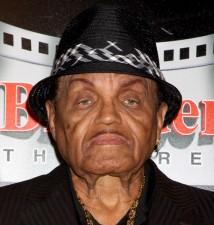 As is often the case with Joe Jackson, you've got to let him finish his sentence before getting too mad at him. Michael Jackson's dad tells Extra in an interview airing tonight that his son is making a bigger impact now than when he was alive. "He's worth more dead than when he was alive," Joe, 80, says. "I'd rather have him alive."
How touching.
This Is It pulled in $2.2 million domestically in just its first few showings late Tuesday night, and as Joe notes,"When he was living, they didn't show this."
Article continues below advertisement
The movie is a compilation of rehearsal footage from what was to be Michael's last tour. At first, Joe admits he was confused about the concept.
"I didn't know what This Is It meant," says Joe, adding that the movie does allow to him to remember his son "as I knew him best: performing and dancing on stage. Entertaining people."
Joe admits that he gets "very emotional" when he hears Michael's songs, and cries sometimes "when I'm off to myself and I start thinking about things that we went through," he says. "No one will ever see me, though."