NEWS
Padma Lakshmi Not Worried About Baby Weight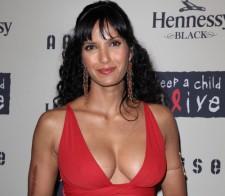 Many celebrity moms-to-be already have a plan in place to shed the weight gained during pregnancy before they've even gotten the result on the pregnancy test. But for pregnant Top Chef host Padma Lakshmi, she's not only not worrying that far ahead, she's expecting that the birth of her first child will change her figure forever.
Rather than fret about getting back to pre-baby weight, Padma says she's more concerned about having a healthy, beautiful baby.
Article continues below advertisement
"I don't expect my body to be exactly how it was before pregnancy," she explained at Thursday night's 6th Annual Keep a Child Alive Black Ball at the Hammerstein Ballroom in NYC. "If it doesn't, it's okay. It's a really small price to pay for me. I really want to be a Mother. I'm really happy! I don't care if I go up a size!"
Because of the pregnancy, Padma admits she's "working out less. I'm on the treadmill or lame dumbbells! I can't box! I can't jump rope!"
One thing that is helping keep her in shape is the fact that she's not yet begun craving any high-calorie snacks. "It's so boring... I'm not having any cravings," she reveals. "I'm eating really well. I always ate well. I'm eating everything. The only thing I'm not eating is sushi or any raw food."
So what's the one thing she's looking most forward to about being a mom?
Answers Padma, "Just to see my baby's face!"