NEWS
True Blood Spoilers (Hint: Alexander Skarsgård gets Naked)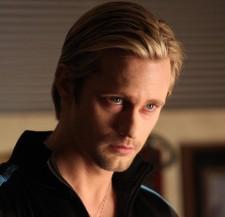 Attention True Blood fans, although the show's third season is many months away, the weekly dose of sex and the supernatural, set in steamy Louisiana, is about to get even hotter: Alexander Skarsgård will be going nude.
True Blood boss Alan Ball tells E! Online that brooding Scandinavian bloodsucker Eric Northman will be a main player in Season 3.
But will he be ditching his duds? "Alex has indicated a willingness to go there, and I believe he appears without most of his clothes in the very first episode of season three," he says.
Article continues below advertisement
Things won't be so smooth for Civil War vamp, Bill Compton, and Alan says despite proposing to Sookie, the lovers won't have a wedding this season.
"Stephen Moyer will not be marginalized," says Ball, "Bill and Sookie might go through some rough patches that last maybe a little longer than Team Bill fans might like. But Bill and Sookie have a connection that will never die."
Meanwhile, Sam Merlotte played by Sam Trammell investigates his biological parents and why he's able to shapeshift and Sookie (Anna Paquin) "gets closer to the answer" of why she — and not her brother Jason (Ryan Kwanten) — has mind-reading powers.