NEWS
Jon Gosselin & Michael Lohan Phone Convo Leaked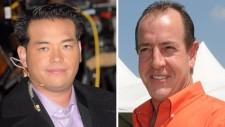 When it comes to taped phone chats, the hits keep on coming: A raw recording of Jon Gosselin ranting against TLC has leaked to RadarOnline. Jon was talking to the expert on recorded convos, Michael Lohan. "I put my kids out there to every pedophile on the planet and they never got paid for it. It's disgusting," Jon says on the tape.
In the recorded conversation made several months ago, Jon accuses TLC of taking money for deals with two magazines and is upset some of the money wasn't given to him. Jon also implies that he believes his supposed knowledge of those deals will not stop him from talking or making his own deals. "They haven't said (bleep)," he said.
Article continues below advertisement
Jon then says he wishes he had spoken freely sooner but didn't because, "Because they tried to scare tactic me. They tried to scare tactic me. Why the (bleep) should they get paid and not my kids?
He added, "If that information became public, can you imagine? Their stock would tank."
RadarOnline.com has confirmed that TLC was not paid for either magazine interview. Jon was wrong, they were done only for publicity.
The conversation took place before TLC proved Jon's thinking was flawed by filing a breach of contract lawsuit against him. The show aired its final episode on Monday after Jon barred the network from filming his kids.
CLICK HERE FOR ALL OF OK!'S JON GOSSELIN NEWS AND PICS!
TLC says that the financial deals made between Jon and the other end of the line, Michael, are in violation of the exclusivity portion of his contract.
Article continues below advertisement
In the conversation, Jon acknowledges that clause, but thought he had TLC too afraid to stop him from speeking freely.
Jon also dimisses his time with Kate Major in the conversation and how she complained to him that he made he look bad.
"You know like you know we hung out," he explained. "Still don't get it. (Bleep)."
He also revealed that his relationship with Hailey Glassman began May 4 and that he doesn't really know much about Michael's past the same way he doesn't know about Hailey's.
"His past, I'm like, 'I don't know about his past. I only know what you assholes write about him. It's the same (bleep) you write about me, so why should I believe you?'"
"They never say the good things," Jon concluded. "Never, 'cause the good things don't sell. I've learned. I'm not stupid."