NEWS
Taylor Lautner: I Don't Have Restless Leg Syndrome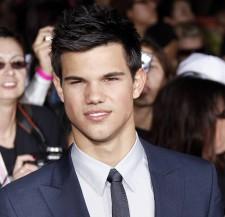 Taylor Lautner is finally setting the record straight about his fidgety limbs: He hasn't got Restless Leg Syndrome, he just likes to bounce his knees. Got that?
In an interview with Seventeen magazine, when asked his worst habit he says, "I bounce my knees, but I do not have restless leg syndrome.
"I did an interview, I don't even know who it was with, and they said I told them I have restless leg syndrome and it distracts me from my work. I do not have any syndrome. I actually have many friends like me who just bounce their knees."
Article continues below advertisement
Taylor, 17, may be steaming up screens as the love-struck Jacob Black in New Moon but in real life, what kind of woman does he go for?
"Playing hard to get is not the way to win me over. I'm definitely more for the girl who can smile and laugh all the time and just have a good time!"
But he insists that despite hordes of screaming fans — and rumored girlfriend Taylor Swift on his arm — it's still tough to talk to prospective dates.
"I guess it just depends on the girl," he says. "Sometimes I'll feel free to completely open up, and I wish I could do that more often because that's what I look for in a girl. Someone that can open up and be herself, but no, I definitely haven't overcome it completely."
So if he could swap places with somone for a day, who would he choose? "Brian Austin Green, because he gets to date Megan Fox!"